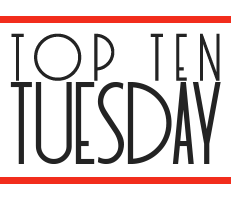 I keep meaning to do top ten posts but I only ever remember them on an actual Tuesday. Not this week though 'cause
Lindsey
tweeted about it and I was immediately on board. Also, I like to flail about good books so there's that as well.

I read this series back in April and I'm still reeling from all the awesome. Daughter of Smoke and Bone is unlike any other book because Karou is so artsy and Brimstone has such a personality and the settings are out-of-this-world good. And that's not even the half of it. Days of Blood and Starlight raised the bar so high I wasn't sure anything could top that. It also broke my heart. Dreams of Gods and Monsters is my favorite from the series because of all the things that happen and the stressful undertone because man, how does it all end?! Also, I just have to mention Night of Cake and Puppets because Zuzana and Mic forever.

This was pretty much the first book I read in 2014 and OMFG, so good. This recommendation comes at a perfect time because Ruin and Rising, the last book, comes out in a week. My body is ready.

Scarlet is such a rollercoaster ride of emotions that go bam, bam- BAM. My poor heart almost couldn't take it. I love books that wreck so this one is definitely recommended. Hehe.

Holy moly! This book did not disappoint and yes, you all need to read it.

This book. I have no words that are comprehensible because I think I'm still in bit of a book hangover ever since I read it in May. Still, I'll tell you why you need to read it: beautiful friendship, loads of playlists, and Frank FREAKIN' Porter.

This was my first LGBT book ever and I'm so glad that it was my first. So raw and beautiful and feels-y and that's all I can really say about it because then it'll be all asdfghjkl.

But what were those three words? I need to know because come on, it's just pure torture. Still, I love those two and their story. Sigh.

Ask Again Later is such a happy book that I had a smile plastered to my face the whole time I was reading it. Also, the story is bloody brilliant despite being such a fun read.

What a messy, mindfuck of a book. If you know me, you know I love such books. Awkwardness and secrets are part of life which is why their portrayal in Life by Committee is so raw. Can I have Star's book now?

I love road trip books and Open Road Summer had it and so much more. Though I was frustrated at the main character's sudden bitchiness, this book made it to top ten because of the beautiful friendship, music and romance that just makes you go like, 'Now kiss!'
I also just have to mention Gayle Forman's Just One Year and Kasie West's Pivot Point because they're so good and I only didn't mention them because they're both duologies.
Have you read any of my best reads so far? Do you need me to convince you more?