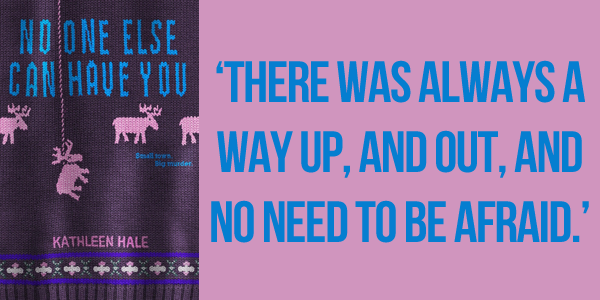 ABOUT THE BOOK
No One Else Can Have You by Kathleen Hale
young adult contemporary mystery published by HarperTeen on January 7th, 2014
Small towns are nothing if not friendly. Friendship, Wisconsin (population: 689 688) is no different. Around here, everyone wears a smile. And no one ever locks their doors. Until, that is, high school sweetheart Ruth Fried is found murdered. Strung up like a scarecrow in the middle of a cornfield.
Unfortunately, Friendship's police are more adept at looking for lost pets than catching killers. So Ruth's best friend, Kippy Bushman, armed with only her tenacious Midwestern spirit and Ruth's secret diary (which Ruth's mother had asked her to read in order to redact any, you know, sex parts), sets out to find the murderer. But in a quiet town like Friendship—where no one is a suspect—anyone could be the killer.
THE RATING
THE REVIEW
No One Else Can Have You is a weird book with a strikingly odd main character, Kippy Bushman, who lives in a safe, small town of Friendship, Wisconsin. I am aware of all the did-not-finish, what-a-slut-shaming-main-character, what-the-hell-is-this-book responses out there and you know what? All that coupled with a healthy dose of unease is a vital part of No One Else Can Have You. The reader has to be far out of reach of their comfort zone to read and enjoy it. So yes, I understand why certain readers couldn't stomach all the weirdness that is this book but I could, I did and it was gruesomely aweinspiring.
The prologue of No One Else Can Have You sets such an eerie-ingly horrifying tone and that it's hard not to cringe. It's about a page long and it's so disturbing that it still lingers in the back of a mind.
Kippy Bushman is equally flawed in her judgements of people and in her awkward quirkiness. She's obviously had a hard time connecting to people which is painful to read about. Her relationship with her father, Dom, is as bizarre as the turtlenecks that are her standard choice of apparel. Ever since she lost her mother to madness and imminent death, Kippy Bushman has been overly attached to her only friend, Ruth Fried. But now that's Ruth dead, well, that is enough of a push she needs to spring out of her shell.
You see, despite being her best friend, Ruth did not like Kippy. Sure, she appreciated their friendship but she wasn't as good a friend as she seemed to be. And to know that your only friend in the world thinks that you're pathetic to the point of being nauseous and that she was having an affair with a much older man only a few hours before that friend's funeral is all just too much for Kippy to comprehend. So it's no wonder that the funeral turns out to be the disastrous of funerals which is only the beginning.
Kippy is torn between her grief and anger over Ruth's murder. With Ruth's parents out of town, Dom acting all soft towards her and Ralph being his usual video-game-obsessed-neighbour-slash-second-best-friend, she turns to Davey to express her unease over Ruth's murder and her alleged killer. Davey is Ruth's brother back from war in Afghanistan minus one of his fingers. The almost-strangers-to-each-other duo manage to work together for a while before it all goes even further south for Kippy. With an avenging Sheriff, an overprotective father and a sketchy old lawyer, Kippy has her hands full trying to sort it all out but with a history of unintentional violence, it's only a matter of time before the nice small town of Friendship turns on her for supporting the alleged killer.
No One Else Can Have You is a debut that tests the reader with its endless oddities. Despite being a little wary to pick it up, the disturbing prologue and the engaging mystery soon replaced my wariness. Whilst there are some things that are somewhat ridiculous and a bit exaggerated, they're dismissible enough to not affect the murder mystery. Guessing and trying to sort out the mystery coupled with a dark and looming tone of the story makes the experience of reading No One Else Can Have You unique. If you are into reading an uncomfortable, character-driven story of a strange girl with her stranger behavior who's too cool for a town named Friendship, this book is for you.
THE QUOTES
'But I guess I still have this fear that you can catch invisible things from other people. That someone else's insanity can creep under your skin and fry your brain.'


'Now that I'm awake, I think of what I've lost and tumble between utter remorse and childlike hope, anxiously retracing all my wrong moves and praying for time machines. Part of me imagines clawing through the jungle surrounding this asylum, and crawling all the way to Davey—playing some kind of love song on a guitar outside his window, even though I don't know how to play guitar—and begging for his company back.'