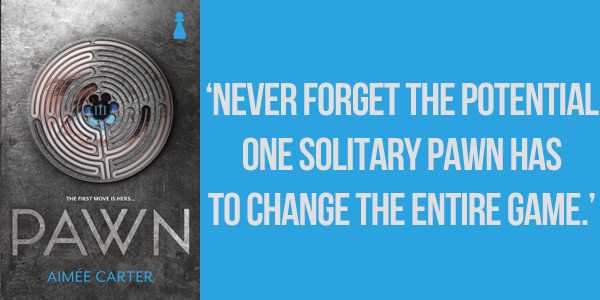 ABOUT THE BOOK
Pawn by Aimee Carter
young adult dystopia published by HarlequinTeen on November 26th, 2013
first book in The Blackcoat Rebellion series
You can be a VII. If you give up everything.
For Kitty Doe, it seems like an easy choice. She can either spend her life as a III in misery, looked down upon by the higher ranks and forced to leave the people she loves, or she can become a VII and join the most powerful family in the country.
If she says yes, Kitty will be Masked—surgically transformed into Lila Hart, the Prime Minister's niece, who died under mysterious circumstances. As a member of the Hart family, she will be famous. She will be adored. And for the first time, she will matter.
There's only one catch. She must also stop the rebellion that Lila secretly fostered, the same one that got her killed and one Kitty believes in. Faced with threats, conspiracies and a life that's not her own, she must decide which path to choose—and learn how to become more than a pawn in a twisted game she's only beginning to understand.
THE RATING
THE REVIEW
This year, I've been gravitating towards books with mystery elements more and more. This could be because I've hardly read any YA that was pure mystery which is why I end up enjoying books that tackle shock value well when combined with any other genre. Pawn has a ton of shock value combined with a ton of glamor set in a dystopian world. That is exactly what makes it a thrilling read.
There is nothing special about Kitty Doe save for her eyes that match the exact color of Lila Hart's, niece of the Prime Minister. She is an ordinary Extra, not even supposed to be born in the first place because her parents already had the one child that they were allowed to being IVs or below. And now she blew the one chance she had to be someone by receiving an ordinary III.
Worse, instead of taking up her assignment, she plans to hide for a month before Benjy, her boyfriend, receives his rank so that they can go off to live together somewhere. Her choice of hiding is probably wrong but it's dangerous and probably the only way to survive. All of that quickly changes when Kitty is auctioned off and find herself in the company of Daxton Hart, the Prime Minister.
Backed into a corner, Kitty opts for self-preservation and is swept into the lavish world of the elite. However, she doesn't know just what she's in for. To say that she was manipulated could be true and misleading at the same time. Foolish enough to think she'd be a VII, she didn't think about the consequences of being Lila Hart. Thus, it begs the question why would such a powerful family go to such extents to mask the death of one of their own family members?
Kitty is really just a pawn in a deadly game that Harts are playing but does she really have what it takes to unveil the mysteries? Kitty may be backed into a corner but she uses that corner to cleverly retaliate which makes for a hell of an exciting read. Resilient, she quickly realizes the truth behind everything from the feared place called Elsewhere to Knox, Lila's fiancé.
There are a lot of things to figure out and people to save in about three hundred and fifty pages and Aimee Carter does it skillfully. With hardly any breathers and a fairly complicated plot, Pawn is a refreshing read that I enjoyed immensely.
THE QUOTES
'But the world is out there, and it understands that the illusion of knowledge and freedom is not the same as the real thing. Eventually it will fade, and there are those who will do whatever it takes to make that happen sooner rather than later.'

'If I could go back, I would have done the exact same thing.'