BEST IN BOOKS 2013
BEST BOOK OF 2013?
Vicious
by V. E. Schwab. A genius, vicious book. Who needs pretty heroes when there are villains with beautiful brains?
BOOK YOU WERE EXCITED ABOUT AND THOUGHT YOU'D LOVE BUT DIDN'T?
My Life Next Door
by Huntley Fitzpatrick. I'd heard way too many good things about it that I was sure I'd love it but it fell flat for me. George is adorable and Tim is the best of My Life Next Door so I'm pretty excited about his book,
The Boy Most Likely To
, despite the fact that it's set to release in 2015.
MOST SURPRISING (IN A GOOD WAY) BOOK OF 2013?
These Broken Stars
by Amie Kaufman and Meagan Spooner. This went from what-a-pretty-sight to will-someone-tell-me-what-is-even-happening?!
So good.
BEST SERIES YOU DISCOVERED IN 2013?
Romitri, Pynch and Chaolena which basically means Vampire Academy, The Raven Cycle and Throne of Glass.
FAVORITE AUTHORS YOU DISCOVERED IN 2013?
BEST BOOK THAT WAS OUT OF YOUR COMFORT ZONE OR A NEW GENRE FOR YOU?
Not really out of my comfort zone, but the writing of
The Knife of Never Letting Go
by Patrick Ness really set it apart from the books I usually read.
MOST THRILLING, UNPUTDOWNABLE BOOK IN 2013?
All Our Yesterdays
by Cristin Terrill. My heart was yell-beating throughout the book.
BOOK YOU READ IN 2013 THAT YOU ARE MOST LIKELY TO RE-READ NEXT YEAR:
Divergent by Veronica Roth because it is one hell of a what-did-just-happen book because nervous about Insurgent and Allegiant.
FAVORITE COVER OF A BOOK YOU READ IN 2013?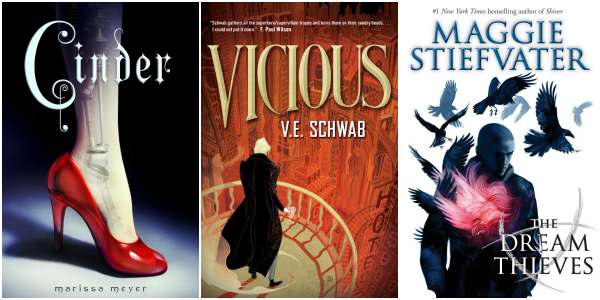 MOST MEMORABLE CHARACTER IN 2013?
Victor Vale, genius extraordinaire, master of revenge and incredibly devoted.
MOST BEAUTIFULLY WRITTEN BOOK READ IN 2013?
Golden by Jessi Kirby. I can quote the whole book because the words are so pretty.
BOOK THAT HAD THE GREATEST IMPACT ON YOU IN 2013?
Just One Day
by Gayle Forman because Allyson is so lost sometimes which happens to the best of us and that's the beauty of it all.
BOOK YOU CAN'T BELIEVE YOU WAITED UNTIL 2013 TO FINALLY READ?
Probably Vampire Academy by Richelle Mead because Romitri's the endgame and I would've loved to have discovered them earlier. Still, I ship 'em hard.
FAVORITE QUOTE FROM A BOOK YOU READ IN 2012?
SHORTEST AND LONGEST BOOK YOU READ IN 2013?
584 pages of Last Sacrifice by Richelle Mead and 13 pages of Free Four by Veronica Roth.
BOOK THAT HAD A SCENE IN IT THAT HAD YOU REELING AND DYING TO TALK TO SOMEBODY ABOUT IT?
The birthday scene in Crown of Midnight by Sarah J. Maas. Thankfully, I had Eve to talk about it with. Just so you all know, I died countless times reading it.
FAVORITE RELATIONSHIP FROM A BOOK YOU READ IN 2013.
Ronan and Chainsaw because just look at those two.
FAVORITE BOOK YOU READ IN 2012 FROM AN AUTHOR YOU READ PREVIOUSLY.
Uprising by Jessica Therrien. I enjoyed it more than I enjoyed Oppression because mythology.
BEST BOOK YOU READ THAT YOU READ BASED SOLELY ON A RECOMMENDATION FROM SOMEBODY ELSE:
Vicious by V. E. Schwab which I loved thanks a ton to
Brilliant Eve
(even though I mention it to her once a week which clearly isn't enough). (I know you're flipping your hair, Eve).
GENRE YOU READ THE MOST FROM IN 2013?
YA contemporary because I'm a contemporary girl.
NEWEST FICTIONAL CRUSH FROM A BOOK YOU'VE READ IN 2013?
Dimitri Belikov because of his beautiful, beautiful words and his deadly, deadly looks.
Victor Vale because the guy's crazy set on revenge and plays with death.
Prince Kai because well, he's just so wonderful.
Ronan Lynch because he fist slams first and thinks (and dreams) later. Feeding Chainsaw, racing cars and having OJ at 3 am are his way of a good time.
Chaol Westfall because even though he's the epitome of moodiness, he sucks it up when he absolutely has to.
BEST 2013 DEBUT I'VE READ?
Not a Drop to Drink by Mindy McGinnis. Shit, this book's so good.
MOST VIVID WORLD/IMAGERY IN A BOOK YOU'VE READ IN 2013?
The Knife of Never Letting Go by Patrick Ness. So very realistic and so very vivid.
BOOK THAT WAS THE MOST FUN TO READ IN 2013?
Between Caymen's sarcasm and Xander's coffee-bringing-routine,
The Distance Between Us
by Kasie West is a fun book.
BOOK THAT MADE YOU CRY/NEARLY CRY IN 2013?
I had a hard time dealing the ending of Shadow Kiss and then the ending of Crown of Midnight was all, no wait, please don't leave me like this.
BOOK YOU READ IN 2013 THAT YOU THINK GOT OVERLOOKED THIS YEAR OR WHEN IT CAME OUT?
Not exactly overlooked but it is not such a known book when it comes to contemporaries. So I want everyone to read
This Song Will Save Your Life
by Leila Sales to know what music and Elise are all about.
BOOK BLOGGING/READING LIFE IN 2013
NEW FAVORITE BOOK BLOG YOU DISCOVERED IN 2013?
Well, I discovered a ton and I'm not kidding. I have to mention Eve's PaperGrey, Asti's A Bookish Heart, Reem's I Read and Tell and Hannah's So Obsessed With.
FAVORITE REVIEW THAT YOU WROTE IN 2013?
Probably my review of Golden by Jessi Kirby because the book do more than just tell a story.
BEST DISCUSSION YOU HAD ON YOUR BLOG?
I posted a discussion about love triangles and how they can and do hurt and it turned out to be pretty popular.
MOST THOUGHT-PROVOKING REVIEW OR DISCUSSION YOU READ ON SOMEBODY ELSE'S BLOG?
A lot. The one I remember is Reem's blogpost on The Different Types of Villains. It is snarky and fun.
BEST EVENT THAT YOU PARTICIPATED IN?
Sci-Fi Month hosted by Rinn in November. So much science fiction and I loved every bit of it.
BEST MOMENT OF BOOK BLOGGING IN 2013?
All my Twitter talks about books with bookish people. Best moments ever.
MOST POPULAR POST THIS YEAR ON YOUR BLOG?
I posted a top ten list of sci-fi covers redesigns that I want to see in print which io9 featured on their website which is why it got 2569 views. Um wow, self.
POST YOU WISHED GOT A LITTLE MORE LOVE?
My interview with Lauren Miller because it goes to show just how much work an author puts in their book. So proud of how Parallel came to be.
BEST BOOKISH DISCOVERY?
Vicious trading cards and how Victoria Schwab offered to send them to me because she's awesome and because they depict the characters perfectly.
DID YOU COMPLETE ANY READING CHALLENGES OR GOALS THAT YOU HAD SET FOR YOURSELF AT THE BEGINNING OF THIS YEAR?
Can I just say no and get it over with? Okay then.
LOOKING AHEAD…

BOOK YOU DIDN'T GET TO IN 2013 BUT WILL BE YOUR NUMBER ONE PRIORITY IN 2014?
It's actually The Grisha trilogy by Leigh Bardugo and this is the first series I plan to start in 2014.

2014 NON-DEBUT YOU ARE MOST ANTICIPATING?
The third books in Throne of Glass and The Raven Cycle series

2014 DEBUT YOU ARE MOST ANTICIPATING?
The Half Life of Molly Pierce by Katrina Leno because suspense and dissociative identity disorder.

SERIES ENDING YOU ARE MOST ANTICIPATING IN 2014?
Two words:
MARA. DYER.

ONE THING YOU HOPE TO ACCOMPLISH OR DO IN YOUR READING/BLOGGING IN 2014.
Read 100 books (this will be my fourth year of hoping) and be more creative with any feature that I do on the blog.