Covers matter. Sometimes it so happens that an absolutely gorgeous cover is redesigned to target a different audience. Sometimes they're just bad. But sometimes, someone decides to redesign a cover which turns out to be absolutely perfect. As it's Sci-Fi Month, I'm focusing on sci-fi cover redesigns that should exist on this planet in print. Till that happens, I'll just gaze at these: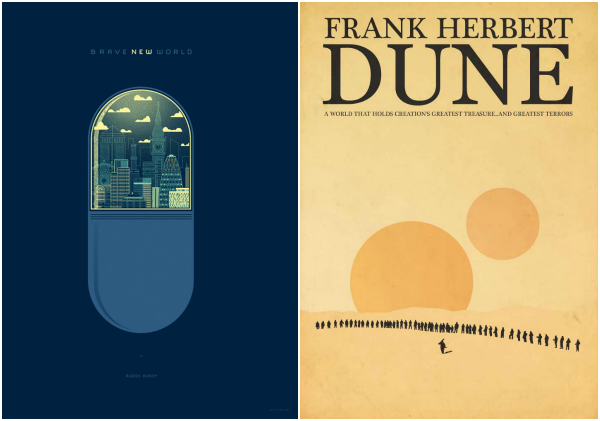 Brave New World by Aldous Huxley – This actually exists! In the form of a poster, that is. I really like the minimalistic elements of the cover. Kevin Tong designed the poster book cover and this is what he said about it:  
"Books and reading have been the primary sculptor of my ideas, the ideas in this series are no exception. The book, despite being fictional, solidified within me the need to be independent and to formulate my own ideas. I think it is extremely appropriate because the city inside the capsule contains elements of London, as the story of "Brave New World" takes place in London."
Dune by Frank Herbert – Designed by Paul J. Murray, this is probably the only cover for Dune that'd make me want to read it because it speaks to me. 
"This was originally intended to be an alternative poster design for the film adaptation but it wasn't really working as a poster for the film, so I decided to change it a little and work it up into a cover design for the original novel by Frank Herbert."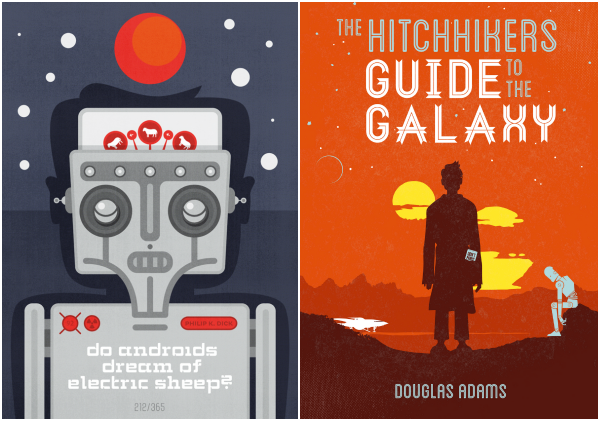 "The All Day Everyday Project was something like my graphic design diary. Everyday I took 60 minutes to design whatever I wanted to. When you work for an agency or clients, you're often not allowed to make things look exactly like you want it – which is sometimes frustrating, but that's the way it goes. So to keep stuff in balance, I decided to start this project."
The Hitchhiker's Guide to the Galaxy by Douglas Adams – I must admit, I really don't like any of the covers for this book which is why Wayne Dorrington's redesign awed me. It speaks to me. In the words of Dorrington himself:
"In the scene shown, Arthur is experiencing his first realisation that he is travelling the universe, as he watches the sun set on Magrathea with Marvin. He is explaining to Marvin how awe inspiring it is, and Marvin replies that its rubbish. Marvin's job in the books is very much reminding us that the universe in Adams world is fraught with errors and breakdowns, no matter how hip and froody it appears.

 
In the distance we can see the Heart of Gold, the spaceship stolen by Zaphod Beeblebrox that carried the heroes to Magrathea. Tucked in Arthur's pocket (or bag, its not clarified which) we see his copy of The Guide, lent to him by Ford Prefect."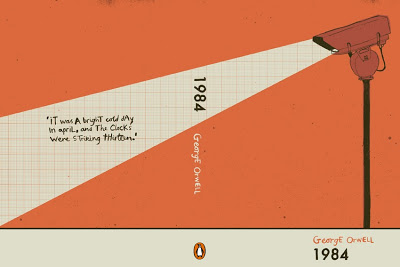 1984
by George Orwell – 
Designed
by Luke James, the cover jacket of 1984 captures one of the many ways our world has changed with a Big Brother security camera exposing the book's first line. 
Fahrenheit 451
 by Ray Bradbury – This is, by far, one of the most stunning cover redesigns I've ever come across. Elizabeth Perez
designed
something that is symbolic.
"Fahrenheit 451 is a novel about a dystopian future where books are outlawed and firemen burn any house that contains them. The story is about suppressing ideas, and about how television destroys interest in reading literature.

 
I wanted to spread the book-burning message to the book itself. The book's spine is screen-printed with a matchbook striking paper surface, so the book itself can be burned."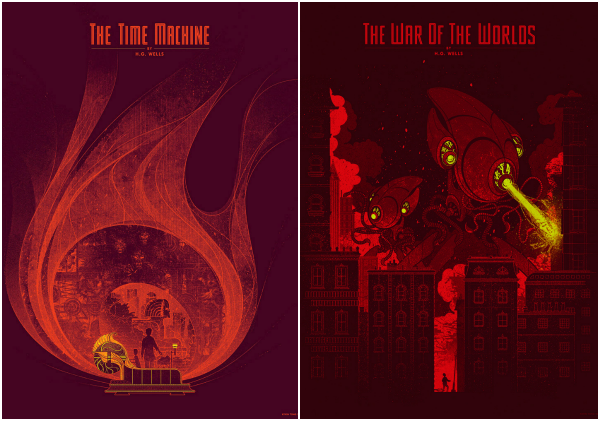 "To satisfy my book lust, I proudly present these posters for The Time Machine, by H.G. Wells. Wells has always been important to me, since he pretty much invented science fiction, which is my favorite genre by far."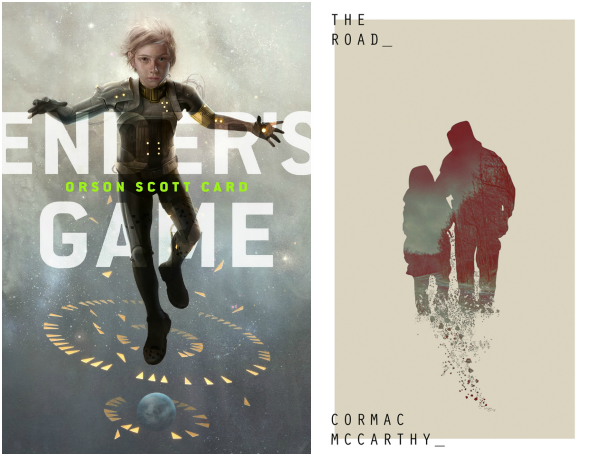 Ender's Game by Orson Scott Card – Sam Weber designed this official ebook cover for Ender's Game and I think it should be made into a print cover as well. I'd tell you why I like this so much but the words of the editor, Beth Meacham, describes it perfectly:
"I loved seeing Ender large with an entire planet underfoot—whether it's Earth or the alien planet, the fate of both worlds depend on this small boy. The weightlessness, of course, refers to the Battle School exercises so memorable in the book. The flat-color triangles, representing the holographic game pieces, set against the realistic rendering of Ender and the planet, enhance the lie of the game."
The Road by Cormac McCarthy – A contemporary reader wouldn't pick up The Road to read unless the cover is designed by Ian Westwater. I love minimalistic everything so this cover really caught my attention.
"For this brief I was tasked with creating a set of illustrative book covers for a series of Cormac McCarthy novels. The idea was to attract a new audience to the very traditional novels through the use of a more contemporary design."
Which cover redesign do you like the best? Aren't they stunning? Don't you wish you were a cover art designer because I wish I was.

P.S. An io9 article by Charlie Jane Anders featured this blogpost (!).