There is no one universally-accepted definition of science fiction and as the genre develops more and more, sprouting new sub-genres; the present definitions are blurred even further. Today, I talk about the science of fiction that turns it into science fiction.
A SENSE OF WONDER
The concept of space and time is as old as the Big Bang itself and cocooned in our own world, we often tend to forget how vast it really is. As children, we used to find wonder in the every little thing, our curiosity spilling out in the form of endless questions. But as we get older, that curiosity is curbed to a great extent. We become overwhelmed with living our lives where studying and working are the top priorities. We simply lose the sense of wonder so much so that we wouldn't mind going through sensory overload once in a while.
Good science fiction contains an element of wonder; there's always something we haven't come across yet., something that hasn't given away wonder in order to become mundane. A new possibility. A beginning of what-if. Something that pokes at your beliefs. We know it isn't real but entranced by the possibility, the implications of the action being taken, the immense plot revealed for the reader in all its glory; we develop a sense of wonder.
PLOT REVELATIONS
There's always the question of whether the plot will manage to leave us in shock and awe. This is a turning point in any science fiction because it tests the reader as much as it tests the character because both are experiencing the full force of it for the first time (usually). It can end either way. Probably why there are so many things one can simply love or hate, there's no inbetween with them. It's like the fate of the world depends in the hands of an 11-year-old Ender and everything is alright in the world again.
Or not.
The worst case scenario is when the revelation just leaves you indifferent. You cannot bring yourself to care no matter what you do. All you can think is why would any reasonable person do this. The fate of the world cannot depend on an 11-year-old Ender because duh.
THE MYSTERY ELEMENT
Science delves into mysteries all the time whether it's testing out a new technology or developing a cure for cancer. Science fiction works the same way. Sometimes it's better to tell the backstory than to show it. The mystery can either be about what's going on with the story of the characters in it as long as the reader doesn't lose interest. If the execution is done right, our curiosity is fed.
PLAUSIBILITY
It's always been said that there's only so much you can read about until it turns into a cliche. Science fiction hasn't escaped that fact but this doesn't mean that readers don't want plausibility. I'd like to think that there's a reasonable explanation, a science behind it all. Questions are just the beginning. As a reader, I want the book I'm reading to make me curious and not just gloss over the details to get to the romance or the main conflict.
Scientific plausibility is a plus in science fiction. Sometimes, TV shows and movies ignore it which only angers hardcore sci-fi fans. We all know time travel isn't possible (yet) but if there's a possible explanation of it, I'd like to know!
(This is not to say that I will hate a book if it doesn't explain the science properly because a chance of it really happening on earth is really no comparison to teleporting but that doesn't make teleporting any less awesome.)
EMOTIONAL PUNCH
You're reading a science fiction book which has everything. An absolute sense of wonder about the setting, the plot reveal shatters your illusions about life, the mystery is too hard to handle and it feels like something that could totally happen right now- but the main character is a drab. Instead of the book giving you the emotional punch, you want to give the main character a kick in the gut. You're baffled because the concept is out-of-this-world good but the character is ruining everything for you. You're not emotionally invested, there's no moment happening and you feel like you don't care about the stakes because you don't know their importance.
That's the power of emotion; it can make or break a science fiction for you. Pixar knows it.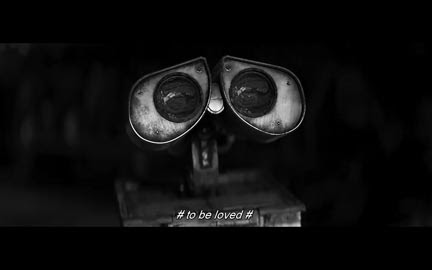 Oh, WALL-E… *goes into a corner and sobs* Source