ABOUT THE BOOK
Since the age of ten, Mia has lived under the iron fist of the fundamentalist preacher who lured her mother away to join his fanatical family of followers. In Edenton, a supposed "Garden of Eden" deep in the South American jungle, everyone follows the Reverend's strict but arbitrary rules—even the mandate of whom they can marry. Now sixteen, Mia dreams of slipping away from the armed guards who keep the faithful in, and the curious out. When the rebellious and sexy Gabriel, a new boy, arrives with his family, Mia sees a chance to escape.
But the scandalous secrets the two discover beyond the compound's façade are more shocking than anything they ever imagined. While Gabriel has his own terrible secrets, he and Mia bond together, more than friends and freedom fighters. But is there time to think of each other as they race to stop the Reverend's paranoid plan to free his flock from the corrupt world? Can two teenagers crush a criminal mastermind? And who will die in the fight to save the ones they love from a madman who's only concerned about his own secrets?
THE RATING
THE REVIEW
Wow. I'm still reeling from the thrilling ride Escape from Eden turned out to be. Anticipation kept me glued to the book until the very end. I've always been fascinated with brainwashing practices, cults and conspiracy theories so I knew I wanted to read this book as soon as I read the words fundamentalist preacher. But what I didn't know is how adrenaline packed, engrossing and action-filled Escape from Eden would turn out to be.
Escape from Eden is so much more than just a thriller mystery. It's exhilarating and controversial to read about humans being brainwashed willingly in the name of faith. Taking advantage of their adversary when, in their minds, they've no one to turn to except God. On the surface, Edenton is believed to be a self-sustaining utopian community located somewhere in the South American jungles. The people in the community work hard all day to serve each other doing whatever they're assigned to do silently. Shrouded in secrets, Edenton is far from perfect.
Mia works in the kitchen along with her peers. Tired of doing the same thing over and over, she secretly yearns to escape Edenton. Mia remembers life before Edenton and questions her mother on why it's better to give up freedom and exist on the Reverend's commands. She secretly writes and sketches in her journal in order to keep herself sane and escape the controlling environment of Edenton for a few moments every day.
Gabrielle is new to Edenton and his unflinching, defiant attitude has Mia intrigued. Running into trouble with the guards ever since his arrival, he notices Mia as well. He reveals the true purpose of Edenton and his plan of escaping to Mia who agrees to escape with him. But escape doesn't come easily and soon both of them find themselves into the heart of the Reverend's sickening plans for the unsuspecting community of Edenton.
Mia is such a headstrong, brave character who is willing to get to the bottom of every doubt she has. She has some pretty admirable qualities and I couldn't help but be in awe of her. Gabriele is such a risque character. I honestly don't have a better word to describe him. Always on the verge of uttering a quip, he has crashed and burned through life. Their relationship dynamic is portrayed brilliantly with sizzling moments, and disagreements in between.
Straight up violence, twisted preachings, illicit discoveries and damaging secrets, Escape from Eden is a truly compelling read which kept me on the edge throughout. Despite the underlying suspicions about the truth about Edenton, the story balanced perfectly between chilling, dark suspense to witty, evocative moments at every turn. I can't recommend this unique and captivating debut by Elisa Nader enough.
THE QUOTES
"I noticed the swirls of a dark tattoo peeking beneath his sleeve. The lines were beautiful and mysterious. Some of the older people in Edenton had tattoos, reminders of a life left behind, but the kids who'd grown up in Edenton didn't even have pierced ears, let alone something as exotic, and daring, as a tattoo."
"What is the matter with you?"
"You want an alphabetical list?"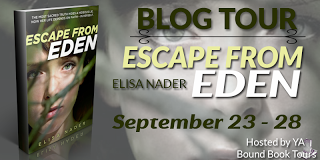 Click the banner for the tour schedule.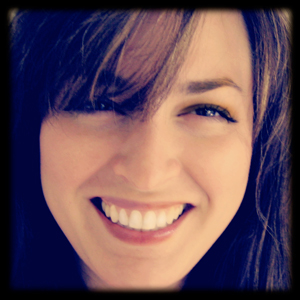 ABOUT THE AUTHOR
Hi. I'm Elisa. I like cheese and reading and TV show marathons. Writing is scary, but not as scary as, say, Civil War amputations. I'm an Aquarius. Uh… let's see… I'm not very good at writing my own biography. Or autobiography. I guess this is reading more like a slightly incoherent personal ad.
Elisa Nader can be found at

THE GIVEAWAY
Elisa Nader has offered so many awesome stuff in the giveaway and it's international. Enter away!
a Rafflecopter giveaway
Thanks to Merit Press and YA Bound for providing me an eBook copy of Escape from Eden for review.