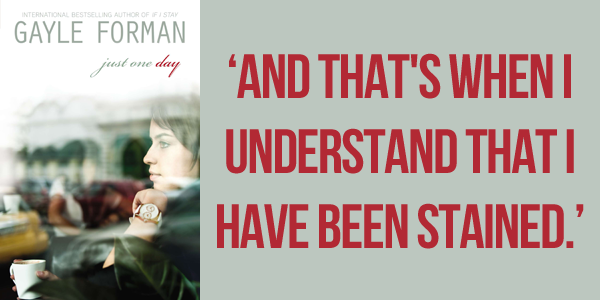 ABOUT THE BOOK
Just One Day
 by
Gayle Forman
young adult contemporary published by Dutton on January 8th, 2013
first book in Just One Day duology
When sheltered American good girl Allyson first encounters laid-back Dutch actor Willem at an underground performance of Twelfth Night, there's an undeniable spark. So when fate brings them together a second time, Allyson takes an uncharacteristic leap, changes course, and follows Willem to Paris. After just one day together, the spark bursts into a flame. . . until Allyson wakes up after a whirlwind day shocked to discover that Willem is gone.
A life upended in one day turns into a year of self-discovery as Allyson embarks on a journey to break free from a lifetime of limits in order to find her true passions, and maybe even a true love.
THE RATING
THE REVIEW
Just One Day killed me, plain and simple. It is one of those books that I'd take with me if I were to be stranded on an island. Each chapter is a beauty in itself; a little push towards self-discovery, a dabble in what it means to go through utter desperation, to come down from a high and still not be over it, to be so determined towards that one goal that it ultimately makes you who you are. God, I don't think I can ever get over this book.
The beginning of Just One Day is conspicuously normal with Allyson nearing the end of her epic Europe tour full of sights, sounds and of course, Culture! The only exciting thing is the bob haircut Melanie, her best friend, forced her to get. There is no doubt that Allyson is as adventure-averse as they come. She is what I'd call 'trained to function'; doing things just because, not really thinking, keeping her annoyance to herself. In short, not really living life. I, for the life of me, couldn't understand just how Allyson would change.
Suddenly, through sheer impulsiveness, Allyson becomes Lulu and the stage is set. There is just something dreamy and far off about traveling in a city like Paris with a stranger by your side that appeals to every cell inside Allyson's body (and mine). You get to be whoever you are and that is exactly what Allyson does. She lets go and with Willem by her side, discovers how the other half lives. The doers who do things rather than just watching them.
Willem is a character that is pretty hard to forget about. He's Dutch through and through which shows with his love for canals, in his way of speaking and the striking differences between him and Allyson. He's mysterious and so very unpredictable that I kept expecting him to vanish more than Allyson did. When he spoke about being stained I just about died and went to heaven. He has that air around him, something akin to wanderlust, that makes him go places. He's likely to find contentment in some far off wilderness than civilization.
Allyson's impulsiveness hit close to home because I could feel the exact moment her heart shifted gears, her mouth took over her mind and spoke for her. Impulsiveness has consequences and Allyson knows that because of her thought processes throughout their day in Paris. But that's the beauty of impulsive decisions, being aware deep down that it's going to end up in a big mess yet going forward because it's worth the hurt. And it was. Eventually, it was. She could see it and I admired her for it.
However, when the day is over and reality kicks in, I could imagine Allyson detaching herself and coming to a few realizations because of that impulsiveness. As once you've imagined the high and taken the plunge, it's difficult to go back completely. The rest of her just had to follow through instead. And it did when things swayed between her and Melissa, when her roommates kept their distance, when her grades got bad, when she enrolled in a set of classes I couldn't see her ever enrolling in, when she met Dee, when she delivered that dialogue, when she started worked for Babs, when she had the talk with her mother and finally, when she came to the decision to get rid of her misery once and for all.
Just One Day is perfect as it is. The imagery is created in such a way that I could feel the heaviness and itchiness of the gold watch on her wrist. I felt my heart pounding when Allyson and Willem run for their life across the streets of Paris (one more thing to do when I go visit Paris, by the way). I felt the struggle inside me when I read about Allyson's struggles. It's a beautiful thing really, when the writing is so beautiful it never fails to evoke mental imagery and emotions that overwhelm you long after the last page has been turned.
Each and every thing that happens to Allyson and each and every character that touches her life one way or the other is there for a purpose. It is teary and it is exhilarating but in the end, it is what it is and it is what makes Allyson embrace herself. Change, like Allyson said, felt right. Just One Day is a book that will always, always stay with me and for that, I'm thankful to Gayle Forman.
THE QUOTES
'You forget, time doesn't exist anymore. You gave it to me.'

'Sometimes the best way to find out what you're supposed to do is by doing the thing you're not supposed to do.'