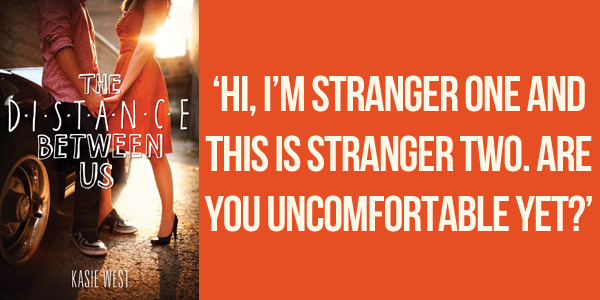 ABOUT THE BOOK
The Distance Between Us by Kasie West
young adult contemporary published by HarperTeen on July 2nd, 2013
Seventeen-year-old Caymen Meyers studies the rich like her own personal science experiment, and after years of observation she's pretty sure they're only good for one thing—spending money on useless stuff, like the porcelain dolls in her mother's shop.
So when Xander Spence walks into the store to pick up a doll for his grandmother, it only takes one glance for Caymen to figure out he's oozing rich. Despite his charming ways and that he's one of the first people who actually gets her, she's smart enough to know his interest won't last. Because if there's one thing she's learned from her mother's warnings, it's that the rich have a short attention span. But Xander keeps coming around, despite her best efforts to scare him off. And much to her dismay, she's beginning to enjoy his company.
She knows her mom can't find out—she wouldn't approve. She'd much rather Caymen hang out with the local rocker who hasn't been raised by money. But just when Xander's attention and loyalty are about to convince Caymen that being rich isn't a character flaw, she finds out that money is a much bigger part of their relationship than she'd ever realized. And that Xander's not the only one she should've been worried about.
THE RATING
THE REVIEW
The Distance Between Us is the antidote to all the YA paranormal I've been gorging on lately. I love paranormal but I'm mostly a contemporary girl. Besides, paranormal was making it so hard for me to find a good contemporary to read. It's addictive! *shrugs* The solution? Read books written by authors of my favorite books but from the contemporary genre. So I had to read The Distance Between Us and fast.
Not even a line into the book and the guy is introduced. I was like whoa, this is exciting and definitely refreshing from the I-am-this-I-do-that-and-then-I-met-him routine. Not that that's bad but this was way different. I hadn't even finished reading the first page and I got the feeling that this book was going to be awesome. Now isn't that just the greatest?
Caymen. Where do I start with Caymen? I always love me a sarcastic main character and Caymen has perfected that to a tee. But that's not it, Kasie West isn't the one to make up a character and not make them grow up throughout the book. While Caymen's thoughts are very (extremely?) sarcastic, blunt and hilarious; her behavior and dry humor around other people makes her pretty nonchalant. She's always on the verge of saying something awkward/inappropriate in public so has to amuse herself by just thinking it. I totally get that! It happens with me all the time. Also, she got some serious competition going on with Bianca from The DUFF. I can't even decide who I love more.
Y'know the guys who're always so serious but when they talk, you want them to talk more as they're so interesting (and charming!) and then when they smile, their whole face changes. And you want them to take a sip from your drink before handing it over to you? That's how Xander is. Never once did I get angry at him (okay, I did once but that's been sorted out). He exudes such gentlemanliness despite being so young, solemn and filthy rich. He has his flaws though (he likes to beckon) but they're not damaging in the serious sense. Rather in the need-to-learn–to-do-this-and-not-that sense.
There are highs and lows in Caymen's life like everybody else's but it's about how she deals with them. She never once made me sorry for her, didn't whine and kept her complaints to herself. If anything, working in at Dolls and More only made her that much more interesting even if she had to cut back on her social life so much. And while Xander makes her life more open, Caymen knows not to get too close to him but only the dolls (see, dry humor). Gah, I was smiling so much while reading this book! The dialogue between Caymen and Xander is out of this world and ridiculously funny.
Also, can I just say that I love all the characters in this book? Because I totally do! (There is just one that is annoying, though). Mrs Dalton's so adorable and Sean ha, he is awesome! And I should totally mention Skye, she's an awesome BFF and her personality shines throughout the book. The inclusion of Henry and Tic also made The Distance Between Us a very interesting read. This book has everything and is a perfect summer book.
Everyone, go read this book now!
THE QUOTES
'Not the "be yourself" line. I loathe that line. As if Myself and Tic have met before and gotten along, so all I have to do is make sure Myself is there this time. So illogical.'

'His eyes are so intense I want to look away . . . or never look away, I can't decide.'