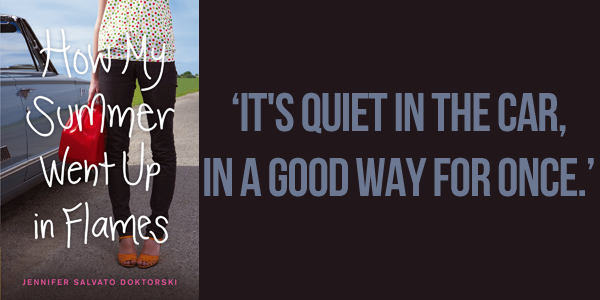 ABOUT THE BOOK
First she lost her heart. Then she lost her mind. And now she's on a road trip to win back her ex. This debut novel's packed with drama and romance!
Rosie's always been impulsive. She didn't intend to set her cheating ex-boyfriend's car on fire. And she never thought her attempts to make amends could be considered stalking. So when she's served with a temporary restraining order on the first day of summer vacation, she's heartbroken—and furious.
To put distance between Rosie and her ex, Rosie's parents send her on a cross-country road trip with responsible, reliable neighbor Matty and his two friends. Forget freedom of the road, Rosie wants to hitchhike home and win back her ex. But her determination starts to dwindle with each passing mile. Because Rosie's spark of anger? It may have just ignited a romance with someone new…
THE RATING
THE REVIEW
I had been looking forward to reading How My Summer Went Up in Flames ever since I saw that it screamed road trip. The blurb promised a fun, quirky story of an impulsive Rosie who might have a bit of a problem letting go of her ex. But it also turned out to be one of those books that made me cringe at Rosie and made me roll my eyes. That's not to say I didn't like the book but honestly, it was going all over the place and not in a good way.
Jealousy ignited (pun intended) Rosie to burn all the memories of her relationship with her cheating ex-boyfriend in his porch and in front of him. Unfortunately, it all goes horribly wrong and the flame ends up lighting his car on fire. Joey retaliates with a temporary restraining order and a few other (pretty embarrassing) charges. He's basically is just out to ruin her life, legally. It's one thing to be heartbroken, sad and see your ex dating the person who he cheated her on with but it's another when the cause is also putting her in jail.
However, Rosie thinks that if she could just talk to Joey, he'd understand why she did what she did. She's impulsive, remember? On top of that, despite the TRO, she manages to text him to meet her. Clearly, Rosie needs to be distanced from the situation until the court date arrives. The solution comes in the form of Matty, her childhood friend and Matty's friend Spencer who're taking a nine day road trip across America to drop Spencer's brother, Logan, in the University of Arizona.
This is where the trouble begins. From early on, Logan is the designated driver and a douchebag which Rosie clearly had had enough of. Matty and Spencer are pretty laid back and trying to make the best out of the trip. They have their ups and downs with Rosie while on the road which are inevitable. What's irksome however, is the romance. Yes, it's a road trip so there's bound to be some romantic feelings but to have them for all the three boys considering one of them is like a brother to Rosie is just too much. I seriously had no idea who was Rosie going to end up with and I really didn't care after a certain point. She just broke up and her heart is still set on Joey deep down; but she still manages to kind of mess around with three boys? Wow.
Impulsiveness is not always stupid but in Rosie's case it almost always is was which is annoying because I'm impulsive and it's nothing like that until you make it so. So while I did connect with Rosie, I also didn't. She's constantly ruining the trip for the others because of her bad mood and unwillingness to go on the trip in the first place. I really wanted to shake up Rosie, show her a bridge and tell her to get over it.
However, there are some parts of the book that I absolutely loved and I understood that Rosie needed the time to come to her senses but it's easy to forget that when she's constantly thinking of bailing out on the trip. I loved the Grand Canyon part of the trip, the way she talked to her dog on the phone and the horses part. I connected with Rosie when she transformed into a feisty, fun person. The guys were so cool once they got over the initial rudeness in case of Logan.
In all, How My Summer Went Up in Flames is not a story that stands out and it didn't make me feel much. Others might not find Rosie and her attitude as bothersome as I did but the plot didn't completely blow. For the most part, it's a story about a girl getting over a relationship through a cross-country road trip which is a fun concept but it wasn't executed well enough to make me feel that it's an awesome book. However, I do look forward to reading more by Jennifer Salvato Doktorski.
THE QUOTES
I cover my eyes with both hands. I think I'm either going to vomit or cry. At the moment, I can't decide which would make me feel better. I part my fingers to look at Matty. "It was only a few emails and texts."
"A few?"
"And maybe I showed up at ShopRite once or twice when he was getting off work.
"Good way to keep busy after a breakup. Hoping incarceration would fill those empty hours?" Matty says.
'It's quiet in the car, in a good way for once. No words, no music. Silence seems right. I roll down the windows and lean my head against the door frame, listening to the wind rush by and smelling the pine trees. I watch the stars materialize, like someone is dimming the switch on the night sky so each shining dot grows brighter and brighter.'