ABOUT THE BOOK
Uprising
by
Jessica Therrien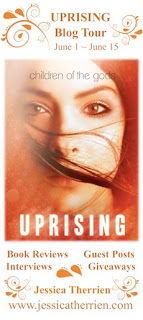 Click the image for
the blog tour schedule.
yound adult fantasy published by ZOVA on 28 May 2013
second book in the Children of the Gods series
Elyse has done everything she can to protect her friends from The Council's reach. As long as they believe she's dead, she has time to rest and train for war. And war is inevitable.
When Kara arrives with the news that Anna and Chloe have been captured, Elyse is faced with the realization that no one is safe until The Council is stopped and Christoph is destroyed. She doesn't need a prophecy to tell her to lead an army. Christoph has done the one thing that ensures she'll fight to the death. He's threatened the people she loves.
It will take more than the words of an oracle to help them fight against the most powerful Descendant alive. To break The Council's oppression and rise up against a plot so many years in the making, Elyse will need to get dangerously close to her enemy. So close, in fact, she may not survive.
THE RATING
THE REVIEW
Being one of the most anticipated books of 2013, I wanted Uprising to blow me away. And it definitely did. Jessica Therrien's talent of weaving Greek mythology into Elyse's story is so enchanting that I couldn't stop reading. The book is a little short of going over 400 pages and so a lot of things happen. The plot was unpredictable and dangerous if I say so and so I never knew how it it would all turn out. In the end, that what made Uprising such an enjoyable read for me.
Elyse is definitely one of those characters who changes gradually and to see her go from a shy and reserved person to a leader who will ultimately might be the most important is amazing. I liked her strong will and how she acted under all the pressure and expectations of the other Descendants. Her life isn't made to be an easy one and it only goes on to show her strength and capacity to handle herself in the worst of times. And boy, what worst of times they were!
William is a solid rock for Elyse to lean on at all times but it is war and anything can happen. It was interesting to read about William's strong will fight over his protective one. He definitely wants Elyse to be the leader but when it means that she could get hurt, it tortures him. But I have to admire his character the most, he has definitely grown since Oppression and I was relieved to know that he doesn't fall into any cliched scenarios.
The war is inevitable and with Christoph determined to get his way, it is clear that he wants something from Elyse. As the story progresses, more and more of Christoph's intentions are revealed and the whole picture is a true face of evil. It also weakens Elyse's into thinking that it's all a futile cause and she'll end up either alone or dead. But there are people who want out of the oppression, people willing to help Elyse with her cause.
And so it goes. The story is action-packed and the secondary character play important roles especially Kara and Alex. It's also interesting to read about the abilities of Descendants introduced in the book. The war, the new oracle, the betrayers all come together in this explosive continuation of Children of the Gods series. I loved it! Three kudos to Jessica Therrien! So cannot wait for book three, mythology for the win.
THE QUOTES
'I don't think his love is the kind of thing that just goes away.'
'Every nerve seared with sharp unrelenting pain. My bones felt like they were splitting and splintering inside my body. I went into shock. I couldn't stand or fall or breathe or cry.'
ABOUT THE AUTHOR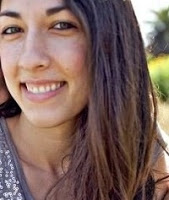 Jessica Therrien is the author of
Oppression
and
Uprising
, book one and two in her YA paranormal romance/adventure series,
Children of the Gods
. Oppression was published by ZOVA Books in February of 2012 and Uprising was released in May of 2013.
Jessica is a graduate of San Diego State University. She lived in Taiwan for a year where she learned Chinese, but she lives in Chula Vista now, where everyone speaks Spanish instead. Although she spends most days in a cubicle at her day job, her alter ego is a writer, who loves the arts with a passion.
Jessica is currently writing book three in her Children of the Gods series.
Jessica Therrien can be found at
Buy Uprising (Children of the Gods, #2)
Thanks to Jessica Therrien and ZOVA for providing me a copy of Uprising for review.