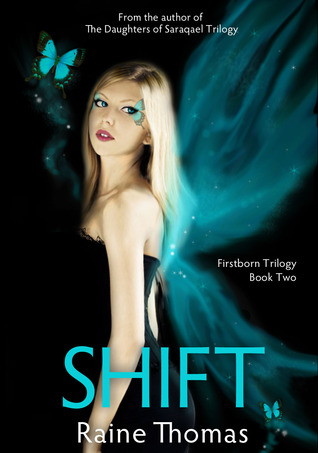 Title: Shift (Firstborn, #2)
Genre: Young Adult, Fantasy
Publisher: Iambe Books
Release Date: 24 August 2012
Pages: 323 (eBook)
Synopsis
Having the ability to shapeshift, Sophia is familiar with change. But even she feels the rising tension in her homeland.
A shadowy male and deadly beast reside in their midst. The births of the newest Kynzesti loom. Hostile Mercesti continue to hunt for the Elder Scroll, and a traumatized female is too afraid to use her abilities to stop them.
Topping off Sophia's stress is Quincy, the male she's convinced can't stand her. She rues the loss of their friendship, but can't figure out how to move past it. She'll soon learn, however, that mending that rift bears more significance than she ever imagined.
The search for the Elder Scroll takes on unexpected urgency, and Sophia finds herself in a race across the mainland. To stop the Mercesti led by Eirik, she and her companions must get past their differences and unite against them. If they don't, Eirik will acquire the immense power he seeks, and two of the beings Sophia loves most will die.
My Rating
* * * *
The Review
Shift follows the events that occurred in Defy as the back story but it focuses on Sophia and Quincy as the protagonists. I looked forward to reading Sophia's story because she is different in appearance and abilities from the rest of her class due to her different DNA. Thus, it is curious to see how she sees herself and how she copes with the fact that she is different. Where Tate is defiant, free-spirited and stubborn, Sophia's personality shines through her intellect and her ability to reason. However, this also makes her prone to come to wrong conclusions when it comes to the matters of heart and Quincy.
Quincy has been staying with the family to oversee the pregnancies of the Saraquel daughters as he is an obstetrician. However, Saraquel was his best friend and he is considered like family to them. His feelings for Sophia extend far beyond the love one has for family and it seems everyone is aware of it except Sophia herself. This is also true for Sophie. It is interesting to see two people apparently so in love with each other trying to hide behind the shadow of masked emotions. Both of them are convinced that the other cannot stand the site of them.
But when Quincy has to recount the events that led to Saraquel's death, Sophia sees that he has no one to comfort him. This leads to an intervention where Sophia ends up blurting out her thoughts out loud. Quincy immediately sees the error of his way but the plans of Eirik and Metis stands in the way. Sophia also has to fully embrace her ability to shift and it is very interesting to see her change in that way.
The relationship of Tate and Zachariah also feature in Shift and it is good to read about their relationship and read more about the background of Zachariah. A big event occurs in Shift which changes their relationship forever and I didn't see it coming at all.
Shift gives a deeper insight into the evil plan introduced in Defy. For the Mercesti to become an Elder, the help of abilities Ariana and Tate have are required. Hence, it becomes a race against time as the Elders seek to get to the scroll before Eirik can and this ensues much of the action in the book.
Even though the book deals with a lot of characters, each of them have something different to offer to the reader. Raine Thomas has written everything with such preciseness that it wasn't hard to keep up with all that was happening in Shift. It would be interesting to see how things end for everyone in Elder as the big revelation at the end of Shift had me reeling for the last book. Shift is a great book with humor, awkwardness, romance, betrayal and action all packed in together making it a page-turner of a book.
"And this time, when she lashed out at him, it was with the arm of a bear. She ripped through fabric and muscle as her claws and power struck him. This time, he was the one who fell."
""The kind of emotion required to create an avowed pairing is unparalleled," he said at last. "Two beings have to love each other unequivocally. They have to be willing to commit their entire existences to each other…die for one another.""