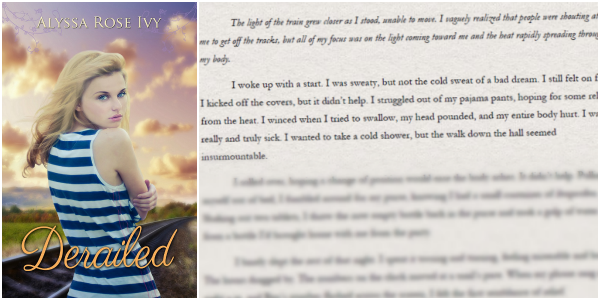 ABOUT THE BOOK
When you're lost, sometimes the only place you can go is home.
Broken over the death of her fiancé, Molly leaves law school to return to her childhood home in North Carolina. Expecting to lay low until she can figure out what else to do with her life, she finds herself in the arms of her high school sweetheart, the boy who represents everything from the past she tried to leave behind.
Looking for an escape, she instead finds a way back to the girl she almost forgot existed and a future she never dreamed possible.
THE RATING


THE REVIEW
The combination of the eye-catching cover and the intriguing synopsis of Derailed pulled me in and I knew I had to read it. What I loved about Derailed is the setting; Clayton Falls sounds like a perfect little town with a beachfront. The story is written in such a way that there are little revelations along the way as to why Molly is so lost and what made her so cautious in life.
Guilt is a feeling Molly can quite relate to on a significant level. It surfaced ever since before she left North Carolina to pursue her dreams to become a lawyer. She finds a home in Boston with Adam as her fiancé and Becca as her friend. But when Adam dies, Molly is again guilt-ridden and loses meaning. In order to escape the memories of Adam, Molly abruptly decides to leave Boston and revisit her hometown.
Clayton Falls calls to her and overwhelmed with feelings of loneliness and numbness from grieving, she falls back on Kelly and eventually Ben, for support. Kelly is her best friend from high school who is getting married soon so a large part of the story revolves around her wedding. Molly is worse than she lets on; she is slowly inching away from her mother and sister and finds it hard to block out dark emotions.
Despite breaking up with Ben because of the events that followed after graduation, it is clear that Molly never stopped loving him. So while Ben feels familiar, for him having Molly back is a chance he is not going to let go at any rate. What Molly needs is to battle her inner demons instead of drowning in them and shutting everyone off.
Things start looking up when she opens up to Ben about her Dad and consequently about her past with Adam. It's revealing to see where she is coming from and why was she holding back but she does get closure. It is actually inspiring to see her survive through a tough time in life.
I would have liked it if there was more to Ben's story of how he pulled himself together. Also, Gavin's persistence made him unlikable to me but what was lacking in Gavin's character was made up by Jack's spunk. In all, Derailed is an enjoyable and a bittersweet romantic story of love lost and found.
THE QUOTES
"The message was only three words, but his failure to respond had changed everything."
"I felt a surge of guilt—the only thing I seemed to feel anymore."
"The light was brighter than I'd expected, and I froze for a second, shivering as I realized how little stood between me and that train—or really how nothing did. Kind of how nothing stood between life and death."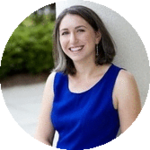 ABOUT THE AUTHOR
Alyssa Rose Ivy is a Young Adult and New Adult author who loves to weave stories with romance and a southern setting. Although raised in the New York area, she fell in love with the South after moving to New Orleans for college. After years as a perpetual student, she turned back to her creative side and decided to write. She lives in North Carolina with her husband and two young children, and she can usually be found with a cup of coffee in her hand.
THE GIVEAWAY
As part of the blog tour, there will be six winners and one of them will be winning a print copy of each Derailed and Veer, the second book in the Clayton Falls series. So enter away! It's international.
Thanks to Alyssa Rose Ivy and ATOMR for providing me a copy of Derailed for review.