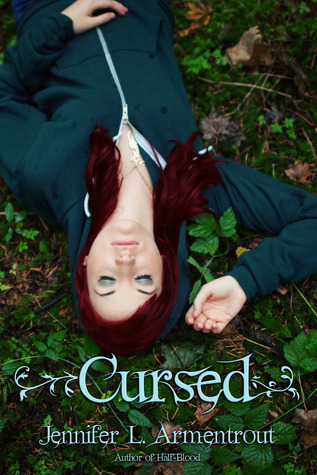 Title: Cursed
Genre: Young Adult, Paranormal
Publisher: Spencer Hill Press
Release Date: 18 September 2012
Pages: 288 (ARC)
Synopsis
Dying sucks and high school senior Ember McWilliams knows firsthand. After a fatal car accident, her gifted little sister brought her back. Now anything Ember touches dies. And that, well, really blows.
Ember operates on a no-touch policy with all living things–including boys. When Hayden Cromwell shows up, quoting Oscar Wilde and claiming her curse is a gift, she thinks he's a crazed cutie. But when he tells her he can help control it, she's more than interested. There's just one catch: Ember has to trust Hayden's adopted father, a man she's sure has sinister reasons for collecting children whose abilities even weird her out.
However, she's willing to do anything to hold her sister's hand again. And hell, she'd also like to be able to kiss Hayden. Who wouldn't? But when Ember learns the accident that turned her into a freak may not have been an accident at all, she's not sure who to trust. Someone wanted her dead, and the closer she gets to the truth, the closer she is to losing not only her heart, but her life.
For real this time.
My Rating
* * *
You know just when you think that something cannot get any worse, it does? That's what it's like to live Ember's life. She was supposed to be dead; only her younger sister Olivia brought her back from the dead. Now Ember feels cursed because her touch is deadly, her mother has a dead-to-the-world state of mind since her father died and Olivia keeps resurrecting animals. It's like a family of freaks and even though Ember wants to just disappear, she can't leave Olivia alone.
So in between juggling bullies at school and keeping up with Olivia's demands, Ember is swamped, tired and lonely. She only has Adam to fall back on but even he doesn't know her secret or the real reason behind her wearing gloves. And then she spots a Hot Dude and thinks, "My brain must have felt sorry for me, so it'd created the only type of guy I could touch—a fantasy one."
Things take a turn for the worse when her ex-boyfriend dies at Ember's hands, someone takes Olivia from school and the Hot Dude ends up squeezing her hands instead of dying when she attacks him knowing he has something to do with Olivia's disappearance. Turns out there are gifted people out there and a man named Cromwell protects them. So it's only natural that he forces takes in Ember's family in order to protect Olivia's gift.
The fact that Ember is a danger to others is made painfully obvious to her by the other gifted people her family is now living with. All except Hayden the Hot Dude. He has the power to absorb energy and he believes that Ember can control her touch of death if she practices.
Ember is fierce yet extremely vulnerable ever since the accident and so she has a hard time trusting people and rightly so. There is something amiss with Cromwell and that doesn't sit well with Ember so she tries to break free of him. I really connected with Ember on a certain level because she didn't feel like she belonged anywhere however much she tried to make it all better. And boy does she! It's like a battle of touch-don't-touch going on inside her head.
As deeply emotional and captivating it was to read Cursed, it also has light and funny moments to offer. The romance between Ember and Hayden is built slowly and steadily. Hayden has his own demons to deal with and together they fit with that connection. Though they go through certain misunderstandings, Hayden really believes in Ember and gives her hope. However, Ember is convinced that Cromwell is bad news and tries to work out theories which agitates Hayden to an extent because he thinks highly of him.
Cursed is an engaging read and Jennifer Armentrout has put her own concept into it with the way the story is crafted. It has mysterious elements and a villain with a twisted mind. If you like books about deadly touches, Cursed is a must read and it will leave you feeling satisfied at the end.
The Quotes:
"You worry about hurting me, but you never seem to worry about me hurting you. And I'm the one with the killer touch."
"My heart jumped in my chest, and then sped up erratically. The thick tension hit a new all-time high. Surprisingly, I found that I still had the ability to speak."
Thanks to Spencer Hill Press for providing me an ARC of Cursed for review.