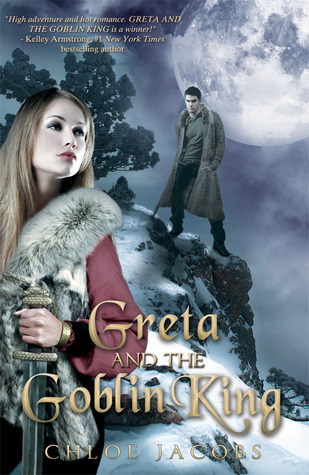 Title: Greta and the Goblin King (The Mylena Chronicles, #1)
Genre: Young Adult, Paranormal
Publisher: Entangled Publishing
Release Date: 13 November 2012
Pages: 298 (eARC)
Synopsis
While trying to save her brother from a witch's fire four years ago, Greta was thrown in herself, falling through a portal to Mylena, a dangerous world where humans are the enemy and every ogre, ghoul, and goblin has a dark side that comes out with the eclipse.
To survive, Greta has hidden her humanity and taken the job of bounty hunter—and she's good at what she does. So good, she's caught the attention of Mylena's young goblin king, the darkly enticing Isaac, who invades her dreams and undermines her will to escape.
But Greta's not the only one looking to get out of Mylena. An ancient evil knows she's the key to opening the portal, and with the next eclipse mere days away, every bloodthirsty creature in the realm is after her—including Isaac. If Greta fails, she and the lost boys of Mylena will die. If she succeeds, no world will be safe from what follows her back…
My Rating
* * * *
The Review
Greta and the Goblin King sucked me in from the start. I had been pretty intrigued by the cover and the synopsis but to actually read the book, it was all I could ask for. The action sequences, the electric chemistry, Mylena creatures out for blood and a bounty hunter as the protagonist. Just wow. Greta is something else entirely and on top of it, Isaac is a very intriguing character.
Greta and the Goblin King is set in the world of Mylena where the humans are considered evil and where every kind of creature from faeries to goblins to gnomes, demons and ghouls thrive. But Agramon wreaked havoc on Mylena and the Great Mother had to put a curse of ice and snow and the two moons on the people of Mylena. The world-building is flawless and being as taken with the icy cold weather as I am, I found myself wanting to feel the cold penetrate deep in my bones more than once.
Add up all that with a human stuck in their world unwillingly as a result of a sacrifice to save her brother's life. Suffice it to say that it hasn't been an easy four years in Mylena for Greta. But Luke miraculously didn't kill her on sight, instead took her in and taught her all the trades of surviving. Everything was as peachy as it could be for Greta when the goblin king decided to pay her a visit during her job as a bounty hunter. The same goblin who just a fortnight ago was trying to get her to say his name and unknowingly giving him the power to come inside her mind whenever she dreams. All because Greta intrigued him. Now isn't that charming.
What do you do become when you have nothing? Fearless is only a glimpse into Greta's personality and she is pretty self-reliant. But for a human to survive right along with paranormal creatures as a bounty hunter and trying to disguise her humaneness. Not an easy one. But somehow Greta manages until all hell in the shape and name of Agramon threatens to take her last bit of her sanity.
And then there is Isaac, the infuriatingly intense and hot as hell Goblin King of Mylena. Only not as much by choice but as a stroke of fate. It is so engaging to see Isaac hot on her trail, haunting her in her dreams, making her want him and trying to get her to see the real him. But Greta haven't earned the title of the best bounty hunter for nothing. She is an expert when it comes to guarding her emotions. Only lately, along with Isaac, she is somehow also letting others affect her judgement and making her care.
Wyatt, Sloane, Jacob and especially Ray made me fall in love with their stories and it was admirable to see them trying to protect each other through thick and thin. All of them played a role in trying Greta to see the other side of the story and to light the fire in her again that willed her to live and survive in the cold, cursed land of Mylena.
I found myself absolutely engrossed in the story of Greta and the Goblin King, willing the words to fly by as quickly as they can so I would know what was going to happen next and how it would all play out. I always find such books to be great reads. I loved how Isaac remained true to his own self even in the most turbulent of times; that's devotion. I can only imagine what kind of action would be in store for Greta in Books 2. Three cheers for Chloe Jacobs!
""You have such a peculiar way of speaking," he said. "I rarely have any notion what you're talking about, but I could listen to your voice all day long.""
"There was no mistaking his frustration and anger, even his pain. It came off him like a fever, engulfing her with a blast of terrible heat, but she still felt safe, protected. It may only last for as long as he held her, but for now that was enough."
About the Author
Chloe Jacobs is a native of nowhere and everywhere, having jumped around to practically every Province of Canada before finally settling in Ontario where she has now been living for a respectable number of years. Her husband and son are the two best people in the entire world, but they also make her wish she'd at least gotten a female cat. No such luck. And although the day job keeps her busy, she carves out as much time as possible to write. Bringing new characters to life and finding out what makes them tick and how badly she can make them suffer is one of her greatest pleasures, almost better than chocolate and fuzzy pink bunny slippers.
Chloe Jacobs can be found at
The Interview
Now it's time for a fun interview with Chloe Jacobs getting to know more about Chloe, the characters and their story. I hope you all find it as much fun as I did!
So do you really own 'fuzzy pink bunny slippers' as it says in your bio?
Yes! I love them! My son found them in a store once and he said he had to buy them for me. He was four at the time, so I'm pretty sure my husband paid for them (which he probably regrets because he trips on them all the time—I have a bad habit of leaving them on his side of the bed *evil grin*).
What is the one thing writing Greta and the Goblin King has taught you?
Writing this story taught me the value of a fantastic editor. Without Heather's help this book would never have been as good as it ended up.
What five words would you use to define your debut book?
Dark. Fantasy. Character-driven. Emotional.
Despite being a very strong character, Greta has a hard time figuring out who she really is. What made you write about such a character?
I was really intrigued about the idea of a character who is stripped of EVERYTHING. How would I survive if I were in her place? If I couldn't call my family, or email them, or Facebook them? If I couldn't see them again, and I had no friends. If, in fact, everyone wanted me dead?? It just seemed like the perfect character to set on this particular journey.
A Goblin King as the hero. How did you come up with the idea?
It started as a twist on the Hansel and Gretel story, and when I was thinking about the world Greta finds herself in, I knew there would be goblins and ghouls and all kinds of fairy tale creatures, so the Goblin King sounded like a much better choice than King of the Ogres. The trick was trying to make Goblin = sexy 🙂
How difficult it was for you to tackle the world-building in Mylena?
I LOVE world building. I can't get enough of it. In fact, there was probably a lot more of the world building in the original draft, but for the sake of keeping up the pace of the book, we had to trim it down a little bit. In book 2 I'll be expanding the world and hopefully helping readers see Mylena a little better.
What do you want readers to take away from Greta and the Goblin King?
I want them to see how much Greta grows, to see her strength and realize that it's even more precious because it doesn't come easy for her. As strong as she is, she struggles not to give into her loneliness and sorrow every day. I would also want readers to know that there's much more to Isaac than we'll see in this book, but not to worry. I'm going to put him through his paces in book 2.
What was the hardest part of writing Greta and the Goblin King?
The hardest part was trying to find a proper balance between the story and the backstory. Since the book starts after Greta and Isaac's first meeting, I had to filter in their history at appropriate times in the book, trying not to halt the action and pacing of the current plot line.
And the best?
OMG the best part was the back and forth between Greta and Isaac. They had fantastic chemistry on the page and I LOVED writing the scenes when they were facing off against one another!
Everyone should know that you are – ?
Crazy.
Lastly, what question have you always wanted to be asked in an interview and how would you answer that question?
If I were a superhero, I'd be the kind that could read people's minds. I always want to know what people are thinking. It must be the writer in me that's always looking at someone and needing to know what's going on in their head. I want to know their deepest darkest secrets, and I want to see their every desire.
…That would probably get me in a lot of trouble though. LOL
Thanks so much for letting me come visit you! I had a BLAST!
The Giveaway
Chloe Jacobs is giving away fabulous prizes to US/Can residents. International entries can win an eBook copy of Greta and the Goblin King. Rules are it the widget.
Enter away!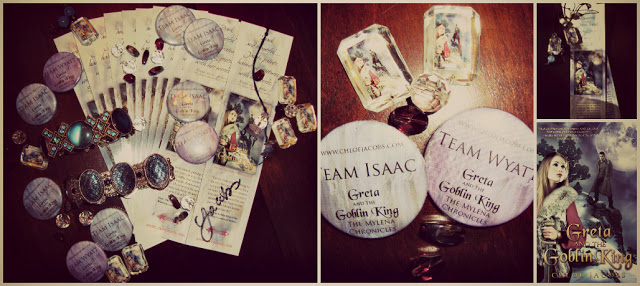 Thanks to Entangled Publishing for providing me a copy of Greta and the Goblin King for review.