A year ago, at the crack of dawn, I created artsy musings of a bibliophile. I had been contemplating making one for a few weeks and then it just happened. I knew I wanted it to be in red color with specks of grey and black but I didn't know the amount of hours I would spent perfecting and learning all the things about blog design. I knew Twitter is important in the blogging world, but I have found it to be a great social website to which I'm addicted.
I knew the top-notch bloggers but what I didn't know was that the book blogging is a community far bigger than I deemed possible. From where I come from, readers of the books I like to read are few and far between. So to have tons of other bloggers to swoon over and discuss books with right from the comforts of my bedroom is utter happiness.
It's hard to believe that I have spent 365 days blogging my heart out. There have been days when I missed it, when school and work made it hard for me to focus on books and keeping in touch with blogger friends. But I have gone at my pace and I know the journey is far from over. It started with a review of
Five Flavors of Dumb
by Antony John and with the Blogoversary post gone live, I am thankful that I decided to blog about books.
Here's to another year filled with awesome books, pretty covers, tweets about books, blog tours, authors and publishers love and my latest favorite genre, new adult.
Happy Bibliophilic Musings!
As a thank you to blogger friends, followers, authors, publishers and new followers, I give you all each a virtual hug and an international giveaway. If it's not cake, it's books. Rules are in the widget.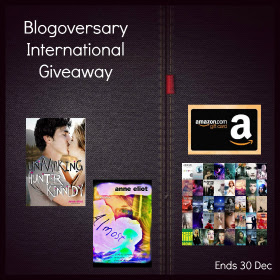 P.S. If you'd like to know more about me and my blog, hop over to Amelia's blog, The Authoress.