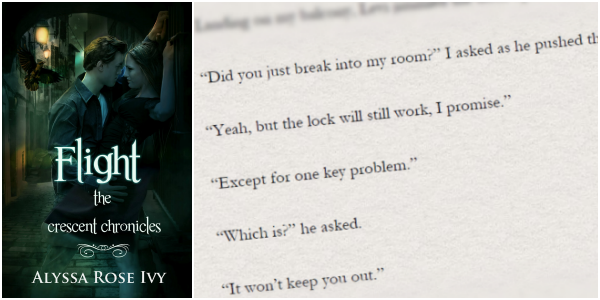 Flight
| The Crescent Chronicles | #1 |
Alyssa Rose Ivy
| NA Paranormal | Self | 16 August 2013 | 255 (eARC)
ABOUT THE BOOK
Sometimes you just have to take flight.
A summer in New Orleans is exactly what Allie needs before starting college. Accepting her dad's invitation to work at his hotel offers an escape from her ex-boyfriend and the chance to spend the summer with her best friend. Meeting a guy is the last thing on her mind—until she sees Levi.
Unable to resist the infuriating yet alluring Levi, Allie finds herself at the center of a supernatural society and forced to decide between following the path she has always trusted or saving a city that might just save her.
THE RATING

THE REVIEW
Sometimes you have to take flight in life to explore the options you never knew you had. Allie would never think that let alone do. Her life is planned out to a tee but she is rather unaware of the fact. So Allie takes a leap before her life starts revolving around Princeton. The leap is a plane ride from New York to New Orleans for the whole summer.
Flight begins with Allie and her bestfriend, Jess on their way to New Orleans. As much as Jess can't get enough of guys, it definitely hasn't rubbed off on Allie and her decision to not get involved with the next guy she lays her eyes on or ever. But Levi sees her and he can really be an annoyingly stubborn guy when it comes to getting what he wants.
Allie has had enough of cheesy lines and clingy boyfriends but Levi is definitely not having that. Persuasion is his middle name and it doesn't hurt that Allie is undeniably attracted to him. Next thing I knew I wanted Allie to punch the guy as much as I wanted her to give him a chance. Levi turned out to be very temptingly good at being bad.
The paranormal element in the book is definitely something unique and enchanting. I was fast caught up in the electrified world Levi has to offer to Allie. It's nothing I have read before and I ended up enjoying it immensely. The secondary characters play their roles perfectly and I actually liked Hailey with her perky attitude towards life and her sudden adventurous spirit.
Flight is a fast-paced book and I was quickly fully absorbed in the story that I couldn't get enough of it. The ending was so unexpected that it took me a minute to realize that there are no pages left! An engrossingly rich book by Alyssa Rose Ivy you wouldn't want to miss reading. Also, that hot scene on the cover actually happens and it's pretty swoon-worthy! I need to read Focus. Now.
THE QUOTES
"I like the beach during the day, but I love it at night. There is just something about listening to the waves in the darkness and the soft glow of the stars reflecting off the water."
"Not everything in life is black and white. Sometimes the best parts are gray. Just remember that not everything can fit into one your neat little boxes."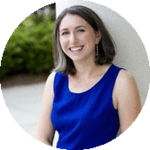 ABOUT THE AUTHOR
Alyssa Rose Ivy is a Young Adult and New Adult author who loves to weave stories with romance and a southern setting. Although raised in the New York area, she fell in love with the South after moving to New Orleans for college. After years as a perpetual student, she turned back to her creative side and decided to write. She lives in North Carolina with her husband and two young children, and she can usually be found with a cup of coffee in her hand.
THE GIVEAWAY
As part of the blog tour, there are two giveaways: a US only for a print copy and an international one for the eBooks. Good luck!
a Rafflecopter giveaway
a Rafflecopter giveaway
Thanks to Alyssa Rose Ivy and ATOMR for providing me a copy of Flight for review.