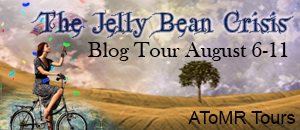 Click the banner for the tour schedule.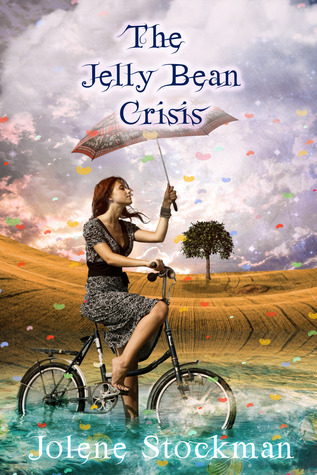 Title: The Jelly Bean Crisis
Author: Jolene Stockman
Genre: Young Adult, Contemporary
Publisher: CreateSpace
Release Date: 1 August 2012
Pages: 269 (eARC)
Synopsis
A total meltdown. The whole school watching. Now Poppy's an ex-straight-A with no Plan B.
When Poppy Johnson throws away a full scholarship to Columbia, she can only blame the jelly beans. The yucky green ones? Midnight cram sessions and Saturday's spent studying. The delicious red? The family legacy: Columbia, and a future in finance. Except now it's starting to look like Poppy's jelly bean theory is wrong. School has been her life until, but maybe it's time to start living now.
Poppy has thirty days to try a new life. No school, no studying. Just jumping into every possible world. Thirty days to find her passion, her path, and maybe even love. The Jelly Bean Crisis is officially on.
My Rating
* * * * *
The Review
If anyone told Poppy Johnson on a Thursday that she would be a career-oriented yes-person starting Saturday, she'd have laughed in your face. Poppy's priorities are as solid as a rock and taped inside her locker door: from the Denton Award right down to the smiley face. But then she goes for her English class, where everyone is reading their career essays. And what do you know, after English, Poppy's Jelly Bean theory is giving off splinters! All because of Lucy who breezes through life and writes with glitter pens.
Nothing like a I-can-do-or-have-anything-I-want-just-because-I-want-it teenager to get you to have second-thoughts on your err- whole life. Especially if you thrive on a Jelly Bean theory. How can Lucy go for the red jelly beans without getting rid of the green sucky ones, or the getting-there purple and orange ones? Then her path crosses with Mrs Young's, the guidance counsellor, who offers her a chat on Columbian insolence. Poppy cannot get the thought out of her mind that maybe she has done it the wrong way her whole life.
So along she goes and gets her way with her parents. But only for a month, her snap month, where everything just clicks into place. Hopefully. From cookie dough to chicken tractors to media releases and free labour, Poppy dives head-on to take initiative to find the thing that makes her happy. She definitely has the energy!
With friends who might just almost miss the whole point of a gap month and running into the Stratford guy everywhere, what's a girl to do? Also, Nana, her grandmother, has taken the plunge herself and is going to college. At seventy. Does that mean Poppy has all the time in the world to figure out what to do? Maybe. It's a good thing that Poppy writes in her journal when an idea strikes; her jumbled thoughts making sense on paper. The way she writes is so classy that the words just popped out of the pages at me.
Poppy is one feisty and bubbly character, she's outspoken but sophisticatedly so. She's reserved, but not so much that she passes on the joy of living. Poppy is a very alive character and I loved every minute I spent with her. She catches on fast with a great learning insight and uncertainty because of that smiley she definitely wants in her life. And if the Denton Award and Columbia cannot give her that, then what's the point?
The Jelly Bean Crisis is surely a very entertaining, gaining and an engrossing fiction debut by Jolene Stockman. Poppy is such a likeable character, a nice straight-A student who has had a meltdown. No pressure. I loved the writing style of Jolene, it just grabs you and keeps on surprising with such wonderful lines. It's also hilarious, case in point: "The whispers bubble up from all corners of the hall. My nightmare has surround sound." So when I finally got to the last page of The Jelly Bean Crisis, I was smiling a happy smile.
"

All free brain-space is marinating in gap month fizz. I chew my pen, candy-cane style. The million possibilities ahead make it hard to care about right now. I write my answers slowly, each letter carved in stone not ballpoint. I'm going to explore the world, find my passion, try everything! The fizz shoots up my spine and a smile sprouts.

"
"A darkened theater. Final whispers. Black. The projector streams through. The picture surrounds. I fall away. You reach me."
"Poppy, there's something deep down inside you that never changes. It just waits to be more of itself. That little, shiny glow knows who you are meant to be. It knows all the good you are capable of doing and being. It believes in you. It tingles when you think about how you want this world to be. It's made of the same stuff as stars. The same stuff as Shakespeare. That's the only part worth listening to."
ABOUT THE AUTHOR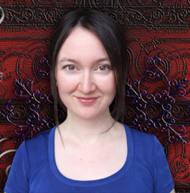 Jolene Stockman is an award winning writer, speaker, and an expert for Girlfriend Magazine Australia. She is a Master of Neuro Linguistic Programming, and one of the youngest in the world to achieve the Distinguished Toastmaster Award.
Jolene lives in New Zealand, and is the author of Total Blueprint for World Domination. The Jelly Bean Crisis is her debut fiction.
Jolene Stockman can be found at