Click the banner for the tour schedule.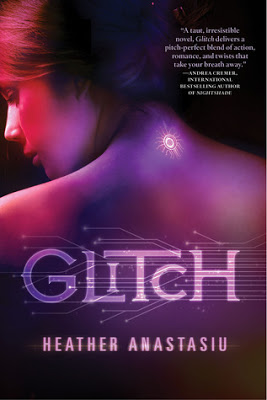 Title: Glitch (Glitch, #1)
Author: Heather Anastasiu
Genre: Young Adult, Science Fiction, Dystopia
Publisher: St. Martin's Griffin
Release Date: 7 August 2012
Pages: 308 (eARC)
Synopsis
In the Community, there is no more pain or war. Implanted computer chips have wiped humanity clean of destructive emotions, and thoughts are replaced by a feed from the Link network.
When Zoe starts to malfunction (or "glitch"), she suddenly begins having her own thoughts, feelings, and identity. Any anomalies must be immediately reported and repaired, but Zoe has a secret so dark it will mean certain deactivation if she is caught: her glitches have given her uncontrollable telekinetic powers.
As Zoe struggles to control her abilities and stay hidden, she meets other glitchers including Max, who can disguise his appearance, and Adrien, who has visions of the future. Both boys introduce Zoe to feelings that are entirely new. Together, this growing band of glitchers must find a way to free themselves from the controlling hands of the Community before they're caught and deactivated, or worse.
In this action-packed debut, Glitch begins an exciting new young adult trilogy.
My Rating
* *
The Review
"Order first. Order always."
A world where order, logic and peace is above all else. A world which is an interminable gray. Zoel Q-24's world where people are stripped off of every emotion to the extent of being called subjects. It seems like a perfect world because there is no fear, no anger, no hate and no greed; emotions that were the cause of the downfall of Old Earth. The Community is the be all and end all. Perfection.
But technology can only go so far and humans are evolutionary creatures. Subjects are sometimes able to feel emotions and see colors. To glitch. Zoe has been glitching and while she cannot control her glitches, she works hard to keep them under control. To clear herself of any emotions.
An ideal situation calls for a diagnostic to fix the V-chip so that the subject can be fixed. Glitching is an anamolous behavior in the Community. More anamolies mean the subject are useless, to broken to fix. Deactivation is the logical solution to such subjects unable to contribute to the community.
But Zoe doesn't want to let go of the glitches because then, instead of the retina display of the Link News, she can access her thoughts, feel and see. She also has a Gift. A Gift that she is afraid of because it will cause her immediate deactivation. So she goes on, pretending.
However, there is a boy whose glance lingered on Zoe for more than a split second. The one with the aquamarines eyes. Is he a Monitor or someone she can trust herself with? It is hard to believe that anyone else could also glitch and be a cause of destruction in the Community. But Adrien helps her and tells her about the lies the community has fed about themselves and about the Old Earth. Adrien's Gift makes it easier for Zoe to trust him.
Then there is Max. Max with a Gift which makes her afraid for him, the risks he is willing to take. But he is reckless and seem to be hiding something. Almost unable to deal with emotions. It makes Zoe question things. But being in the dark about human emotions for so long, it's quite easy for her to be in the dark about uncertain emotions.
The Regulators and Monitors watch the subjects for any anomalous behavior and the Officials do the rest of the work. It all seems perfect. Too perfect. Glitch is a fast-paced dystopian novel about a perfect world of technology where nothing could go wrong as long as there are V-chips, memory erasers and deactivation.
Glitch offers characters unable to think, unaware and linked together as moving, breathing robots. It is a very intriguing concept where technology fails to deliver perfectly. Zoe is caught between her obligation to the community and the taste of diversified beauty the world has to offer her. Where will her decisions finally take her? I must admit I am only slightly curious how Zoe's story will move forward in Override.
"Pain was one thing we were still able to feel, because it was necessary to safety; otherwise alloy workers would burn their fingers off by touching a hot kiln and not feeling it."
"I could breathe again. I felt myself expand in the same moment, color and sound and sense flooding back in, overwhelming me with a rush of smells and sounds."
About the Author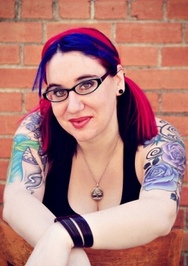 Heather Anastasiu grew up in Texas and recently moved to Minneapolis with her family. When she's not busy getting lost exploring the new city, she spends most days writing at a café or daydreaming about getting a new tattoo.
Glitch is her first novel.
Heather Anastasiu can be found at