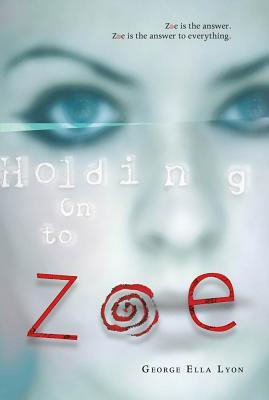 Title: Holding on to Zoe
Genre: Young Adult, Realistic, Contemporary
Publisher: Farrar Straus & Giroux
Release Date: 17 July 2012
Pages: 166 (Paperback)
Synopsis
After sixteen-year-old Jules has her baby, Zoe, it doesn't matter anymore that her mother thinks she's a drama queen, or that her father left them years ago, or even that Zoe's father is gone, too. She and her baby make a family now; she doesn't need anyone else in the world except Zoe. Though it's tough being a new mom, balancing Zoe's needs with working at the Toyota factory and thinking about how to finish school, Jules is sure she'll figure it out. Still, she wonders, why can't anyone be happy for her and Zoe? And why does her mom refuse to believe that Zoe's real?
My Rating
* * *
The Review
Sometimes people take extreme measures to live in denial and sometimes, just sometimes, a person is blissfully unaware of going to that extreme level. Life finally catches up with them and they end up getting out of it a better human being. So does that mean that the mind needs its own time to come to terms with their life to carry on? Maybe.
Jules is living a normal life, better than some. But she has lost one thing: a chance at having a normal family ever since her father skipped town when she was five and her mother went into an all-work-no-time-for-Jules mentality. She has her reasons though, to fulfil the expenses and everything. But is that enough of a reason to be ignorant of the emotional needs of your only daughter? Maybe so; if you're born an unemotional, no touchy-feely type of a mother.
But Jules have Reba and then she gets pregnant. Having a baby will mean a family and so Jules go over the top when the doctor talks about getting rid of the baby which is easier now that Jules is having an ectopic pregnancy. That doesn't sit well with Jules and she relents. Damon may have also chosen to skipped town, if forcefully by his mother, and ignore the existence of their baby even when he swore he never would. But for Jules, Zoe is a lifeline. So it's only logical that Jules feels overprotective for Zoe when her mother tells her to drop the drama and Reba is all uncomfortable whenever she mentions Zoe. Only Dr. Douglas understands and Jules feels comfortable talking to her because she's the first person to accept Zoe.
Holding on to Zoe is a gripping mystery of Jules life after she gets pregnant and the outcome of being 16-and-pregnant. It is a short book and I finished it in a few hours. The book left me thinking how people choose to cope with the difficulties in their lives.
The poem, Fire and Ice by Robert Frost, mentioned in Holding on to Zoe perfectly defines what Jules is going through. It is a beautiful way to describe the story: how hard the process of letting go and of acceptance is.
"Some say the world will end in fire
Some say in ice.
From what I've tasted of desire
I hold with those who favor fire.
But if it had to perish twice,
I think I know enough of hate
To say that for destruction ice
Is also great
And would suffice."
Best Quote(s):
"I just know when I quit looking to other people for directions, I found my own map."
Thanks to MacMillan Books and Farra, Straus and Giroux Books for providing me a copy of Holding on to Zoe for review.