Click the banner for the tour schedule.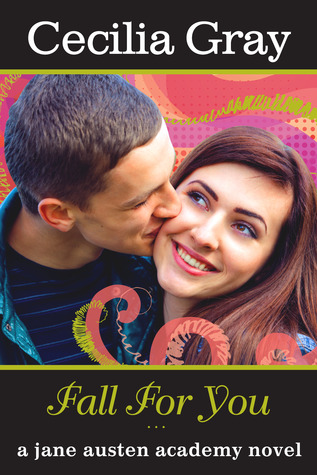 Title: Fall For You (The Jane Austen Academy Series, #1)
Author: Cecilia Gray
Genre: Young Adult, Contemporary
Publisher: CreateSpace
Release Date: 10 February 2012
Pages: 70 (eARC)
Synopsis
To say Lizzie and Dante are polar opposites is the understatement of the century. He's a snooty Exeter transfer with more money than Google. She's a driven study-a-holic barely keeping up with tuition. It's obvious that Dante thinks he's way too good for Lizzie. And Lizzie knows Dante is a snob with a gift for pushing her buttons.
But things are changing fast this year at the Academy. And when Lizzie's quest to stop those changes blows up in her face, taking her oldest friendship with it, she has nowhere else to turn but to Dante, with his killer blue eyes, his crazy-sexy smile, and his secrets… Secrets Lizzie can't seem to leave alone, no matter how hard she tries…
My Rating
* * *
The Review
Fall For You is a quick read which offers just what it promises to the reader. The book opens in the middle of a crisis brewing. For Lizzie, that is. Everything she has known as home in Jasta (that would be her beloved Jane Austen Academy) is being wrenched away from her. But she might have a chance of saving Jasta from the indifference of the new owners and the cunningness of Headmistress Berg. And you can be sure she is going to take that chance.
Tired of her life in Chicago where her parents are always busy and the non-existent friends, Lizzie is more than glad to be back at Jasta for her junior year. But things have taken a turn for the worse unbeknownst to Lizzie.
Lizzie takes up the position of Gazette's managing director and becomes Anne's (her nemesis) room mate in exchange for withdrawing her request for rooming with Ellie, her best friend. Lizzie actually wants to halt whatever improvements Headmistress Berg is preparing for. As if it wasn't enough to admit boys in Jasta and to give up the privacy of their single rooms.
Now all Lizzie has to do is help Anne throw a fabulous Welcome Back dance and find out who the new owners of Jasta are at the cost of her friendship with Ellie whose finding a new close friend in Emma. Then Dante literally falls into her unwilling lap because she has to feature the children of the parents in the Trust. Can she trust him or he's being helpful for his own selfish gain?
As Fall For You is a modern retelling of Pride and Prejudice, Elizabeth and Mr. Darcy are reflected in Lizze and Dante. For Lizze, it is about being quick-witted and adept when it comes to news while for Dante, prejudices can often end up being well, not accurate.
The plot was a little unrelateable for my liking but Fall For You is fast-paced and the motivation of Lizzie in saving Jasta made me want to go on reading it to find out her next step. Fall For You is the first book in a six story series. I enjoyed reading it and it is definitely a new spin to the usual offered in stories set in high school.
"She turned to leave, her heart pounding. But even as she felt the fear of what she'd done, it was eclipsed by the joy of being back on her own two feet, on her own terms again."
About the Author
Cecilia Gray lives in Oakland where she reads, writes and breaks for food. She also pens her biographies in the third person. Like this. As if to trick you into thinking someone else wrote it because she is important. Alas, this is not the case.
Cecilia has been praised for "instilling a warmth and weight into her characters" (Romancing The Book Reviews) and her books have been praised for being "well-written, original, realistic and witty" (Quills & Zebras Reviews).
Several of her titles – including A Delightful Arrangement (The Gentlemen Next Door #1) and An Illicit Engagement (The Gentlemen Next Door #2) – have spent, in her view, a shocking amount of time on bestseller lists for romance, historical romance and regency romance in the US, UK, Italy and Spain.
She's rather enamored of being contacted by readers and hopes you'll oblige.
Cecilia Gray can be found at