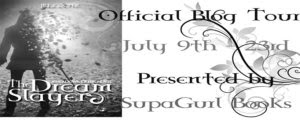 Click the banner for the tour schedule.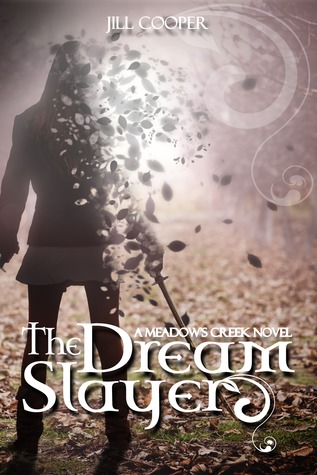 Title: The Dream Slayer (The Dreamer Slayer Series, #1)
Author: Jill Cooper
Genre: Young Adult, Paranormal
Publisher: CreateSpace
Release Date: 25 June 2012
Pages: 312 (eARC)
Synopsis
When your dreams come true, sometimes you get more than you bargained for…
Natalie Johnson has always dreamed she's someone else; calm, beautiful, in control. A chosen warrior with a maniacal arch nemesis and a dreamy boyfriend, the type that can make your knees melt and your heart quiver.
Real life is much different. She's tormented by a bully and endures the sharp tongue of her father, but finds solace in her dreams.
When her bully ends up dead, de ja vu from a dream hits her hard as everything around her begins to fall apart.
Whatever killed Sarah in her dreams is now in reality, hunting her from the shadows. And it wants her dead.
Somehow as the lines between reality and nightmare blur, Natalie must discover hidden strength to pull her friends and family back from the brink of madness.
My Rating
* * * *
The Review
Jill Cooper takes the paranormal genre to another level in The Dream Slayer. Natalie Johnson's life sucks; bullied by Sarah the cheerleader, a parent who is always drunk and the other a bearer of the outcomes. It seems like apart from Tristan, the one BFF she hasn't managed to lose to the social abyss that is high school (insert Michelle, captain of the cheerleading team), life is at its worst. The escape? Dreams. Only if that weren't so complicated what with Natalie's dreams now crossing over to the reality and the constant onslaught of déjà vus. What's a girl to do?
Natalie is a loser and a scared little mouse, nobody pays her any attention except to laugh at her when she's being bullied. She hates it, Tristan hates it; but she knows it will only get worse if she does anything to resist the bullying. Except it does in her dream because Sarah becomes possessed and throws herself over the window of the high school building. Talk about a dramatic death and on the night of the pep rally no less. Only Natalie has seen that already, in her dream.
It all really started when a portal opened and the Patricians escaped through it. It happened in her dream but the horror of it spilling over to the reality was only the beginning. It's a good thing that Natalie's alter ego is a kick-butt, strong, fearless demon slayer with a hot boyfriend, Damien. Mark is her custodian in dreams but in reality, it is Charles. Oh and the demon master, Morach is a big, fat nuisance to just everybody included.
As much as Natalie has to now embrace her fate of being a paladin, she needs all the strong-wiliness she can muster and she does. She rises above and beyond the pitiful feelings of being scared and pushed over all the time. She pulls out of it a stronger, kick-butt, magic-wielding heroine. How she does it is a sure treat to read and a very enjoyable and engrossing one at that.
The Dream Slayer is an action-packed, chock full of one hell of a great storyline debut by Jill Cooper. The cover is mesmerizing and the paranormal aspect of the story mixed with the dreams is like a breath of fresh air. For Natalie, it is somewhat of a coming of age story as well and it was a novel thing to see an average, fat girl with chunky fingers get transformed into a strong character in her dreams and then some. I will recommend The Dream Slayers to the lovers of the paranormal genre. This is a thrilling start to an awesome series.
"The feeling of being more than human—more than Natalie—overtook her and replaced every feeling of self-loathing and doubt she'd ever had. Natalie felt awake for the first time. Every emotion was stronger and more vibrant than before. She never wanted to give this up. Never."
About the Author

Jill Cooper loves tea more than coffee and is obsessed over finding that perfect recipe. She lives in Danvers, MA with two cats, a toddler, a husband, and a 1964 yellow taxi. Her life is chaotic, but fun.
She is currently working on a new Sci-fi thriller and the sequel to The Dream Slayer.
Jill Cooper can be found at
| Website | Blog | Facebook | Twitter | Goodreads |
Publisher |
Buy The Dream Slayer (The Dreamer Slayer Series, #1)
The Giveaway
To celebrate the release of The Dream Slayer and the blog tour, Jill Cooper is going to wrap up all up with a grand finale Kindle Fire give away!
Enter to win, some entries are allowed more than once, just come back every day! The winner will be chosen by random at the end of the contest on August 1st.
Step 2 – Enter to win it.
Go here to enter via the Rafflecopter widget and earn up to 36 entries.
Thanks to Jill Cooper and Supa Gurl for providing me a copy of The Dream Slayer for review.