Click the banner for the tour schedule.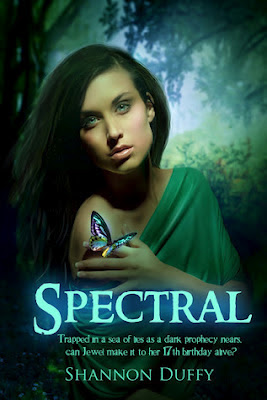 Title: Spectral
Genre: Young Adult, Paranormal
Publisher: Tribute Books
Release Date: 10 April 2012
Pages: 242 (eBook)
Synopsis
Convinced she's a part of the witness protection program, sixteen-year-old Jewel Rose is shuffled around the globe with her family like a pack of traveling gypsies. After arriving at lucky home twenty-seven, she stumbles upon a mysterious boy with magical powers claiming to be her guardian . . . and warning of imminent danger. Despite the obvious sparks between them, Jewel discovers a relationship is forbidden, and the more she learns about dark, brooding Roman, she begins to question who she can even believe—the family who raised her, or the supposed sworn protector who claims they've been lying to her all along.
As she struggles to uncover who her family has really been running from, she is forced to hide her birthmark that reveals who she is. With new realities surfacing, unexplained powers appearing, and two tempting boys vying for her heart, Jewel battles to learn who she can trust in an ever growing sea of lies, hoping she'll make it through her seventeenth birthday alive.
My Rating
* * *
The Review
I don't think I have ever read a better book about witches and witchcraft than Spectral. Spectral is nothing like you would imagine it to be. Jewel Rose cannot remember the last time her family stayed in one place for enough time for her to make friends and feel like she belonged. In her almost seventeen years, she had been enrolled in 26 schools and counting. Being used to living the life she has, Jewel has stopped questioning. Out loud. But all she really thinks about is the absurdity of it all and how much she wants to life a normal life.
Her seventeenth birthday is a special one and being born during a rare time of the year a total lunar eclipse which occurred at the same time as the full moon during the summer solstice. However, Jewel isn't too thrilled with the most unexpected of their moves till yet and the pink bedroom.
Jewel finds out more about herself and her family during a period of two months than she has in all her life. Chase, the guy at school, seems to like her and the new guy, Roman intrigues her. But then her grandmother, Aunt Eva and Uncle Boris arrive to stay for a month. Overhearing a conversation about her being a Spectral worries her and Jewel decides to take matters into her own hands and to find answers.
Her decision takes her on a journey to discover the truth about her family, decide who is it that she wants to be with: Chase or Roman and most of all, whether she going to come out of the chaos alive. Spectral starts out normal and picks up the pace as the story gets more complicated and a lot of action occurs with a dash of a budding romance, weird happenings, family pressures and petty jealousies.
Spectral has marked its spot in the paranormal genre with a promising synopsis and a striking cover. It has it all from the first sentence on. What's not to like in a book with a family hiding secrets longer than the years Jewel has spent on earth and a gorgeous boy who claims to be her guardian? Spectral is one of the must-reads of 2012.
Best Quote:
"Even in the middle of complete chaos, I felt something I'd never felt before. It was something I believed was hope."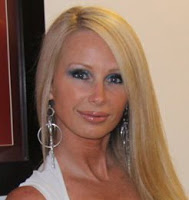 About the Author
Shannon Duffy writes young adult and middle grade fiction. She grew up on the beautiful east coast of Canada and now lives in Ontario, Canada. She is the mom of one boy, Gabriel, her angel. She loves writing, reading, working out, soccer, and the sport of champions-shopping. She is the author of the young adult paranormal romance, SPECTRAL. Her upcoming middle grade fantasy novel, GABRIEL STONE AND THE DIVINITY OF VALTA is scheduled for a January 2013 release.
Shannon Duffy can be found at