Click the banner for the tour schedule.
Title: Knee Deep
Author: Jolene Perry
Genre: Young Adult, Contemporary
Publisher: Tribute Books
Release Date: 1 May 2012
Pages: 239 (eBook)
Synopsis
Shawn is the guy Ronnie Bird promised her life to at the age of fourteen. He's her soul mate. He's more uptight every day, but it's not his fault. His family life is stressful, and she's adding to it. She just needs to be more understanding, and he'll start to be the boy she fell in love with. She won't give up on someone she's loved for so long.
Luke is her best friend, and the guy she hangs with to watch girlie movies in her large blanketopias. He's the guy she can confide in before she even goes to her girlfriends, and the guy who she's playing opposite in Romeo and Juliet. Now her chest flutters every time he gets too close. This is new. Is Ronnie falling for him? Or is Juliet? The lines are getting blurry, but leaving one guy for another is not something that a girl like Ronnie does.
Shawn's outbursts are starting to give her bruises, and Luke's heart breaks as Ronnie remains torn. While her thoughts and feelings swirl around the lines between friendship and forever, she's about to lose them both.
My Rating
* * * *
The Review
Knee Deep is all about immersing oneself more than one can take and there is only one driving force behind it: the fear of letting go. When I started reading Knee Deep, I never thought it would be such an emotional ride for Ronnie, Shawn and Luke. To see Ronnie mature emotionally was a very unlikely experience for me as it gave me insight into the reason for staying in relationships that end up bringing one down.
It's hard to break out of one's comfortable zone and Ronnie taught me how difficult it could be. Not that I didn't get the urge to shake some sense into her. Ronnie is an insecure and confused character in the book. She is so desperate to keep things with Shawn at peace that she keeps stepping on her wishes time and again.
Ever since Shawn came back after the summer, he has been tight-lipped, moody and gets easily upset. So much that Ronnie and they end up arguing every other day. But Ronnie knows that things at home are not alright with Shawn. She knows that she is just adding to the list of problems rather than helping him come out of the funk.
To make matters more perplexing, Ronnie gets the role of Juliet's understudy but end up playing her role opposite Luke. Now she has to keep her growing attraction towards Luke under wraps by convincing herself what she feels for Luke is due to Juliet, not herself. She knows she is treading on dangerous ground here but Shawn is her soul mate and all of this will blow over once the play is over.
But Shawn's behavior is making Ronnie more and more afraid of him but unable to do anything about it, she takes the next best option: she bears the physical pain because it is definitely a small episode. However, things only take a turn for worse. Especially after the play when Luke comes clean about his feelings and Shawn is waiting outside for Ronnie so that they could be alright again.
Knee Deep kept me on my toes towards the end and I can only say how much I appreciated Jolene Perry for pointing out the importance that sometimes not being in a relationship is good for a person. Not saying how it ended though. On a side note, I really liked the dressing sense of Ronnie and her wedge heels, too. Knee Deep is a roller-coaster ride of emotions and I highly recommend it to the readers of contemporary YA.
"Why is it that I can sit there and listen to their stories and know exactly what they should have done, but had no idea what to do in my own story? My story that's my LIFE. If it's so important, why didn't I know what to do?"
About the Author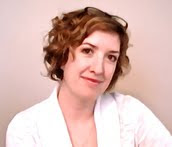 Jolene grew up in Wasilla, Alaska. She graduated from Southern Utah University with a degree in political science and French, which she used to teach math to middle schoolers.
After living in Washington, Utah and Las Vegas, she now resides in Alaska with her husband, and two children. Aside from writing, Jolene sews, plays the guitar, sings when forced, and spends as much time outside as possible.
She is also the author of Night Sky and The Next Door Boys.
Jolene Perry can be found at