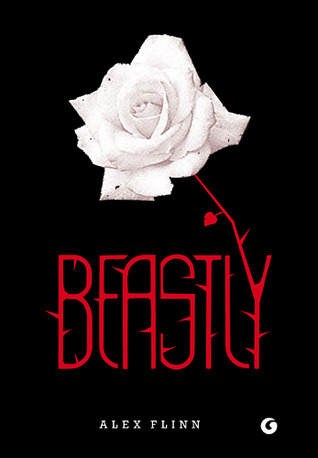 Title: Beastly (Kendra Chronicles, #1)
Genre: Young Adult, Fantasy
Publisher: HarperTeen
Release Date: 1 January 2007
Pages: 300 (eBook)
Synopsis
I am a beast. A beast. Not quite wolf or bear, gorilla or dog, but a horrible new creature who walks upright – a creature with fangs and claws and hair springing from every pore. I am a monster.
You think I'm talking fairy tales? No way. The place is New York City. The time is now. It's no deformity, no disease. And I'll stay this way forever – ruined – unless I can break the spell.
Yes, the spell, the one the witch in my English class cast on me. Why did she turn me into a beast who hides by day and prowls by night? I'll tell you. I'll tell you how I used to be Kyle Kingsbury, the guy you wished you were, with money, perfect looks, and a perfect life. And then, I'll tell you how I became perfectly beastly.
My Rating
* * *
The Review
Beastly is truly one of a kind novel. It is funny yet sarcastic and sad. The witty, snarky dialog, the whole curse situation, the inclusion of classic literature from Shakespeare's Sonnets to Jane Eyre to Frankenstein; it was a hell of an enjoyable read! I didn't know what to expect from the book besides the fact that I wanted to read it before watching the movie adaptation.
I got everything out of it. Though, I'd say, it was true to its teenage target audience by being somewhat teenage-ish yet it had its moments. I loved the characters of Will, Magda and even mean Kyle. As Adrian, he gave a completely different feel to the character. Moreover, the focus was more on the beast-like features than the ugliness of it.
It didn't take me much time to finish the book, I was well engrossed in it anyway. From one extreme of beauty to another extreme of ugliness, this tale is about finding the value of beauty and not only using it as a tool. Yeah, the theme's similar to Beauty and the Beast, but every book has something different to offer to the reader so I am not that keen on the similarities between them.
The character of Lindy could have very well been sidetracked by the number of clichés Alex Flinn managed to divert her from. Even then, the mellowness and the childlike 'jumping up and down' only added to the liveliness of her character.
My only problem with the book was that the 16 year olds protagonists were a bit too young for such a book. But I liked the story a lot; it was refreshing, hilarious and taught stuff about morality. I had fun reading about the theme of the darkness in his life and the touch of reality to all of it. I never really thought I'd like this book; I did and I am glad.
Best Quote(s):
"Now that all the beauty of my old life is gone, I crave it like good. A beautiful thing like this rose: I almost want to eat it, to swallow it whole to replace the beauty I've lost."
"Retribution. Poetic justice. Just deserts. Comeuppance."