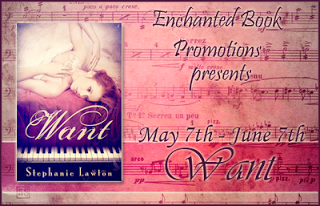 Click the banner for the tour schedule.
ABOUT THE BOOK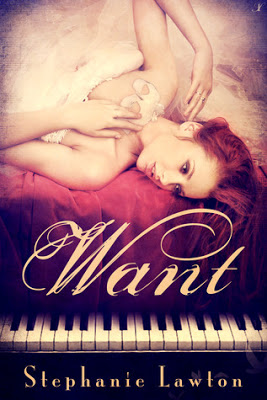 Title: Want
Genre: Young Adult, Contemporary
Publisher: InkSpell Publishing
Release Date: 7 June 2012
Pages: 283 (eARC)
Julianne counts the days until she can pack her bags and leave her old-money, tradition-bound Southern town where appearance is everything and secrecy is a way of life. A piano virtuoso, she dreams of attending a prestigious music school in Boston. Failure is not an option, so she enlists the help of New England Conservatory graduate Isaac Laroche to help her.
She can't understand why he suddenly gave up Boston's music scene to return to the South. He doesn't know her life depends on escaping it. Julianne must face down madness from without, just as it threatens from within. Isaac must resist an inappropriate attraction, but an indiscretion at a Mardi Gras ball—the pinnacle event for Mobile's elite—forces their present wants and needs to collide with sins of the past.
THE RATING
* * *
THE REVIEW
"The thing that makes us great is the same thing that drags us down." This quote completely and utterly defines what I was looking for in Want. Artists are troubled human beings; they are unstable and moody at their best and at their worst. They are made out of stuff normal human beings cannot comprehend or are unable to.
Julianne is on a path to self-destruction despite having a seemingly normal family life. But underneath all that normal are double-standards and secrecy which Julianne has had enough of. Her piano skills are the only way of getting her a one-way ticket out of the hellhole of a town. But when things go bad, they are bound to become worse for Julianne.
As Julianne's piano teacher falls ill, she is forced to practice under a new teacher by the name of Isaac Laroche. Isaac is bad news for Julianne from the start, he has a ton of emotional baggage and a dark side surrounding him for a mile. But it is inevitable for Julianne to fall for him. Reading Want, I never gave a second thought to how bad Isaac really is for Julianne. Also, the other major issue in Julianne's life regarding her mother kind of just sucked me in.
Want is a very emotional read because you can see that Julianne is going to spontaneously combust one of these days and is on the verge of a nervous breakdown with all the beating she has to take and the way Isaac keeps shutting her out more than he lets her in. Julianne is really unable to see that Isaac is just a shell of a man he was once. Moreover, she holds back when it comes to composing pieces. It is Dave who finally make her break free of her hesitation.
Dave is Isaac's best friend and his complete opposite. Where Isaac is dark and broody, Dave is light and fun to be with. I was surprised at the role he played in Julianne's life when her father is always too busy, her brother is away at college and a mother who is good for nothing. It is no surprise that for Julianne, playing piano is only the form of escapism she has and craves.
The way things ended in Want was pretty unpredictable for me and now that I think about it, I think I like the ending. The cover is absolutely gorgeous and I am glad I get to read a book where a musical instrument is the main focus. I look forward to reading more by Stephanie Lawton.
THE QUOTES
Isaac heaves a sigh and motions for me to scoot over. "Okay, listen. I'm going to tell you something. About a theory I have."

"About me? Oh, sorry. There I go again with the selfish crap. It's not all about me."

"This kind of is. Both of us. It's artistic burden, the theory that all creative people like being weird and moody and need some…unbalance or crisis. The thing that makes us great is the same thing that drags us down. Writers and painters suffer, too."
ABOUT THE AUTHOR

After collecting a couple English degrees in the Midwest, Stephanie Lawton suddenly awoke in the deepest reaches of the Deep South. Culture shock inspired her to write about Mobile, Alabama, her adopted city, and all the ways Southern culture, history and attitudes seduce the unsuspecting.
A lover of all things gothic, she can often be spotted photographing old cemeteries, historic buildings and, ironically, the beautiful beaches of the Gulf Coast. She also has a tendency to psychoanalyze people, which comes in handy when creating character profiles.
Stephanie Lawton can be found at