Click the banner for the tour schedule.

ABOUT THE BOOK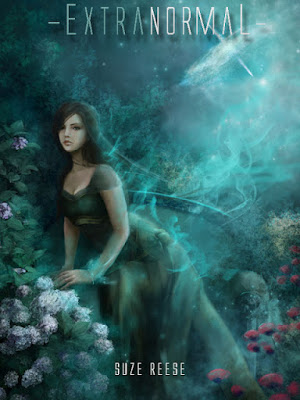 Title: ExtraNormal (ExtraNormal, #1)
Genre: Young Adult, Paranormal
Publisher: Valarian Press
Release Date: 2 April 2012
Pages: 368 (eARC)
Mira Johns is pretty much like any other teenage girl.
Except that she knows how to harness electro-magnetic energy to communicate without words.
And she's really, really far from home.
Her assignment as an emissary to Earth sounds fairly simple: blend in, observe, and stay away from the planet's primitive males.
But after she finds one mysterious boy too irresistible for stupid rules, she realizes the real reason she's supposed to keep her distance: mates from her world can die if separated. But a series of serious accidents make it clear that someone wants to force her return. Mira decides her only hope is to uncover the truth to why she, the most mediocre of candidates, was actually chosen for this assignment—before the agency discovers her secret and sends her back home.
THE RATING
* * *
THE REVIEW
ExtraNormal is a book that I had been waiting to read for a long time now. I finally got to read it and to say that it was awesome would be an understatement. It was infinitely better. I took my time writing this review and talking about things I really, really liked in ExtraNormal. So here I go.
ExtraNormal jumped right into the story from the first page. Mira is an alien from the planet Nreim which is exactly like Earth, the differences being in their far advanced technology and a permanent improvment in their genetics and food. She was selected out of 603 other applicants to go on a mission to observe the Alisons high school teachers and married. Mira is to report on them and to work on the doubts the Council has regarding them.
Everything is provided for by the Council and her Mom, being a part of the government, is sent with Mira on another mission. Mira does not have any knowhow of how cell phones work and why does she find cafeteria food to be highly palatable. She makes friends in school and eight years old Becca, her neighbor, is thrust upon her quite suddenly.
Then there is Jesse, the boy who stuck in Mira's mind on her first day in Loc Robles High School. However, Mira is prohibited to interact with any males on earth for reasons she doesn't understand. That doesn't really matter because she smells disgusting odor when she is around males anyway. But Jesse is different, deep and interesting. One of the things I really liked about him was how he he clearly disliked sneaking around with Mira.
Everett is a very disturbing character as much as Alisons are creepy. He is ruthless and reeks of hatred for Mira. As time progresses, Mira knows that she has something bigger on her hands than she could ever imagine. And when her Dad arrives to Earth, she just knows she has a very limited time to uncover the truth and not leave Jesse behind.
Being a story involving aliens, ExtraNormal is a little hard to understand with all the technology regarding electromagnetic fields, being able to sense the emotions of other people and Mira's ability to stream with Geery, her BFF, back on Neirm. Their relationships work in a very different way than on Earth. The people on Neirm are linked in their 20s and then they undergo a permanent repatterning in their magnetic fields. Meaning that when her Mom is away from Dad, their Em-fields change and may be fatal if went on for a long time.
So when Mira finds herself being linked to Jesse she is beyond confused as the concept is incomprehensible. The love she feels emanating from him is unlike any other emotion she has witnessed and it makes her feel divine bliss. I really liked Jesse, he is a very sweet, under-valued and mysterious protagonist. The only thing I didn't like was how he followed Mira from school to see that she gets home safely. But otherwise, he is a very lovable character; strong-willed yet soft.
The story of ExtraNormal is very interesting and I loved how it progressed. The pace was perfect and the world building took me on a ride and left me breathless. The concept behind ExtraNormal is extremely innovative and highly interesting to read about. Suze Reese is a genius for creating the world of Mira and Jesse. In other words, I simply adored ExtraNormal.
"My stomach flitted with the motion of the car as it traveled up, backwards, down, and up again. The virtual version couldn't even compare to this—gazing out at the brilliant sunset reflected in the water below and absorbing Jesse's intense affection. I rested my head on his shoulder and sighed. I'd replay this memory for the rest of my life."
ABOUT THE AUTHOR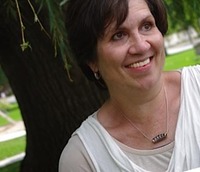 I'm told by my pre-teen son that I'm not the Coolest Mom. (Despite the fact that I'm a young adult fiction author! Can you imagine?)
Apparently spending your days in pajamas slumped over a computer does not score you points in the Cool Mom department. But I suspect Cool Mom in my son's world means someone who gives you everything you ask for. We Nerdy Moms are obviously the ones who know what we're doing.
Besides, I get to play Cool Mom or Nerdy Dad or Tough Teen or Adorable Little Girl whenever I feel like it. It's a pretty sweet life.
Favorite things? Toddler hugs. Followed closely by chocolate. Plus keeping someone up all night reading one of my stories. Yeah, that's pretty awesome.
I've done all the things expected of a writer of my (a-hum) years: earned a bachelor's degree, published in a different genre, and worked in the real world in both marketing and journalism. This is my first venture into writing young adult fiction. My imaginary friends and I are very excited.
(You'll find all the characters listed above in my new paranormal romance Extra Normal, to be released early 2012.)
Suze Reese can be found at
The Giveaway
Thanks to Valarian Press and Suze Reeze for providing me a copy of ExtraNormal for review.