Click the banner for the tour schedule.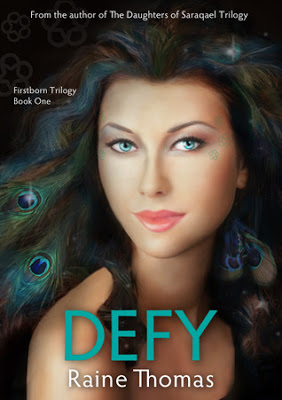 Title: Defy (Firstborn, #1)
Genre: Young Adult, Fantasy
Publisher: Iambe Books
Release Date: 30 April 2012
Pages: 216 (eARC)
Synopsis
Seventeen-year-old Tate is about to make her parents' dreams come true. Unfortunately for her, their dreams foretell her death.
Eager to explore more of the Estilorian plane and prove her abilities, Tate goes against her parents' wishes and leaves the area of protection surrounding her home. Her choice puts her on a deadly path…one that leaves her alone, severely injured and battling for her life.
Her possible savior arrives in the form of Zachariah, a male who has removed himself from Estilorian society for more than fifty years. Fighting an unexpected connection to Tate, he must decide whether saving her life is worth destroying his.
As Tate struggles to find a way home, she ends up drawn into a dark Mercesti plot involving multiple murders and a powerful ancient artifact. With the unpredictable Zachariah as her only source for aid, she'll soon find out if her abilities are strong enough to help her defy her Fate.
My Rating
* * * *
The Review
Defy is the first book I read about the Estilorians and it was a very intense experience. Tate is a very likable character because of her fierceness, determination and stubbornness. Estilorians have various markings on their bodies and the ones around the eyes signify a second ability.
Tate's ability is that she can detect lies. This ability played a significant part in her interactions with Zachariah which I thoroughly enjoyed reading about. Her markings make her beautiful and her blue-green eyes, the beads and feathers in her hair seemed like a very interesting addition to the Estilorians.
Tate 's free-spirited nature compels her to ventures off out of the protection in order to prove that she is skilled enough to fly as all Estilorians do when they turn eighteen. However, her parents shared a dream about her death and they are more than concerned about her. She intended to go after her cousin, Sophie and Quincy but things quickly went awry when a karragen grabbed her.
Defy is a fast-paced book filled with action, an evil plot and a very interesting male protagonist, Zachariah. I have become to like him a lot and I loved how he said the words 'blasted and damn' and 'bloody' in almost all of his conversations.
In all, I really enjoyed Defy and I definitely want to read the Daughters of Saraquel series now. Plus, the second book in the Firstborn series seem to be about Sophia and Quincy and I can't wait to read what happens between them. Bring on the Mercesti hate and the follow-up to what they seek!
"Because he was bent over her and his mouth was so close to hers, the memory of her attempted kiss flashed through her head. She had the unavoidable and mortifying thought that she wished he hadn't stopped her.
She watched his expression change as they continued to stand there staring at each other.
"When you want to kiss someone," he said, making her realize she had been speaking her thoughts again, "do not talk it to damn death.""
Raine Thomas is the author of the exciting and original series of YA fantasy/romance novels about the Estilorian plane. Her passion for writing prompted her to earn her bachelor's degree in English with a focus in Creative Writing from Georgia State University, then her master's degree in Humanities from Central Michigan University. She is also a proud member of Romance Writers of America.
Residing in Orlando, Florida, Raine is a hopeless romantic with a background in the fields of mental health and wedding planning…two areas that intersect far more than one would think. Her years working with children and adolescents with emotional and behavioral challenges inspired her to create young protagonists who overcome their own conflicts. When she isn't writing or glued to e-mail or social networking sites, Raine can usually be found vacationing with her husband and daughter on one of Florida's beautiful beaches or crossing the border to visit with her Canadian friends and relatives.
Raine Thomas can be found at