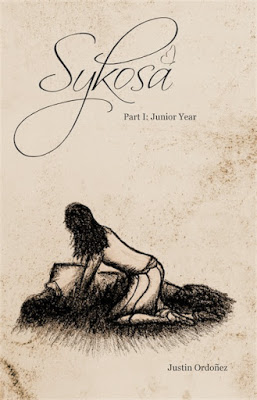 Title: Sykosa (Part I: Junior Year)Author: Justin OrdoñezGenre: Young Adult, ParanormalPublisher: TDS PublishingRelease Date: 20 March 2012Pages: 320 (eARC)
Synopsis
Sykosa (that's "sy"-as-in-"my" ko-sa) is a junior in high school. She belongs to an exclusive clique of girls called the "Queens." The leader is her best friend Niko. Their friendship has been strained lately because Tom—Sykosa's first boyfriend boyfriend—has gotten all serious about making her his pretty Prom princess. That is if he ever gets around to asking her. Before Prom, there's a party at Niko's cottage where parental supervision will be nil. He wants to have sex. She doesn't. He sometimes acts like that doesn't matter.
It matters.
Sykosa has a secret she has never told anyone about. Although, some people—Tom included—know anyway. It happened last year and it was big and she'll cry if she talks about it so she's done talking about it, okay? Never mind, it's nobody's business. Except it keeps happening, and it never stops. She doesn't want to deal with it. He does. She sometimes acts like that doesn't matter.
It matters.
The Rating
* * *
The Review
Despite knowing what Sykosa might be about, I really didn't know what to expect from it. I didn't expect it to have such strong R-rated language and so, I was unprepared for it. While Sykosa is a young adult book, it is for people above 18. Sykosa is a book that deals with girls who are broken from the inside, who don't want to feel; who are like Sykosa. Rebellious yet under control, living in denial. All because Sykosa is afraid; afraid of the past, of what happened. It is simply too much to bear, to even think about it. So all there is in her mind about last year is dominated by a void. Emptiness.
Sykosa is a difficult character to comprehend. She is complex and there are layers upon layers of Sykosa that needs to be uncovered to really know what is Sykosa all about. Sykosa is a book that takes each aspect of life, every little detail there is, into account and so there is a lot of cursing involved; along with drugs, obsession over one's looks and of course, boys. But Sykosa also feels the blackness which threatens to take over her if she isn't looking over her shoulder often.
Sykosa comes more under the genre of slice-of-life because it is extremely focused on the incident that occurred last year. The circumstances of ignoring its existence on the part of the very strict Academy and her too-abiding-by-rules parents and the inevitable denial that leads her to react by smoking, buying lingerie, masturbating and meeting with Tom behind the chapel every day after school.
Tom, the boy who was there with her when the incident occurred. Who doesn't say anything about last year because he knows Sykosa is not ready to handle it. But he saved her and so, her best friend, Nikosa feels that Sykosa is simply into him because she owes him for saving her life. Maybe she does. But it runs far deeper than that. Also, Niko has her own nightmares to deal with what with her mother sliding in and out of her life and juggling between a boy she can't let go and the one she is dating.
You see, after last year, Niko went from being simply Niko to Niko 2.0 because of the revenge she wanted from the Bitches at school. But somehow, with everything happening, she became Niko 3.0 which is basically Niko 1.0 without the conscience. So to say that Sykosa is a book that deals with raw emotions and talks with no sugar-coating on them whatsoever would be almost correct. Sykosa is a very character-driven story.
The characters in Sykosa are very realistic, their reactions to things that happen in life are very thought-provoking, their problems are human. When Sykosa finds herself in an unusual situation all she can think about it is,
"This isn't her life, this isn't her story."
This says a lot about Sykosa, the blackness and the mentality and psychology of a person scarred for life. But this isn't just about Sykosa, it is about everyone who was there when that incident happened last year.
In all, Sykosa is a very unique story so I would suggest the reader to take it all with an open mind. It is not all perfect in the world for Sykosa. I enjoyed reading about the junior year of Sykosa and I look forward to Part II; the excerpt truly left me wanting more of Sykosa.
Best Quote
"Outside, the sun shines. Inside, there's only darkness. The blackness is hard to describe, as it's more than symptoms. It's a nothing that becomes everything there is. And what one sees is only a fraction of the trauma inflicted."

The Contest
Click the banner for
the tour schedule.
As part of this special promotional extravaganza sponsored by Novel Publicity, the price of the Sykosa eBook edition is just 99 cents this week. What's more, by purchasing this fantastic book at an incredibly low price, you can enter to win many awesome prizes. The prizes include $550 in Amazon gift cards, a Kindle Fire, and 5 autographed copies of the book.
All the info you need to win one of these amazing prizes is
RIGHT HERE
. Remember, winning is as easy as clicking a button or leaving a blog comment–easy to enter; easy to win!
To win the prizes:
Visit today's featured social media event
BONUS: Leave a comment on this post*
Leave a comment, win $100:
One random tour commenter will win a $100 Amazon gift card. Just leave a comment on this post, and you'll be entered to win. For a full list of participating blogs, check out
the official tour page
. You can enter on just my blog or on all of them. Get out there and network!
Justin Ordoñez can be found at