Click the banner for the tour schedule.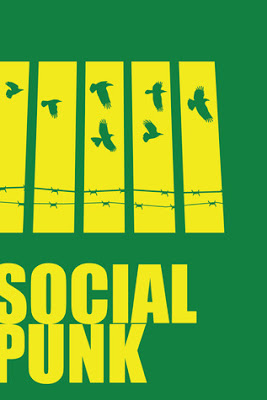 Title: Socialpunk (Socialpunk, #1)
Genre: Young Adult, Dystopia, Cyberpunk
Publisher: Spaulding House
Release Date: 27 March 2012
Pages: 328 (eBook)
Synopsis
Ima would give anything to escape The Dome and learn what's beyond its barriers, but the Chicago government has kept all its citizens on lockdown ever since the Scorched Years left most of the world a desert wasteland. When a mysterious group of hooded figures enters the city unexpectedly, Ima uncovers a plot to destroy The Dome and is given the choice between escaping to a new, dangerous city or staying behind and fighting a battle she can never win.
My Rating
* * *
The Review
Socialpunk is the first ever cyberpunk book that I had a chance to read and I must admit, I liked how the genre works. The earth as we know has completely changed and Ima lives in the domed city of Chicago with no transportation to go in or out of the city. After all, out there is just a vast wasteland and communication with the outside world is out of the question.
Socialpunk begins when Dash, Ima's best friend, help take her to the club to meet someone. Things get awry and out of control at the club and one of the strange hooded figures, Vaughn, comes to the rescue of Ima and Nahum and help them escape to the Silicon City. Dash is left behind in the confusion of the explosion.
Silicon City is nothing short of awe-inspiring and breathtaking. The world building is done perfectly. I found myself transported to a world of silver structures, bionic eyes, degenerates, nutritional juices as food and running as a way of transport. Vaughn introduces them to his hash consisting of Ember and Nasser, their leader.
All Ima wants to do is to save Dash when they discover the plan of destroying the Domed City. Vaughn realizes that the latest virtual reality he tested is not virtual but flesh and blood real. He is thrown off and Nasser decides to help Ima find Dash and join their hash.
Socialpunk is a fast-paced action novel and so there is something going on all the time. Romantically, everyone seems to be in love which can get confusing but is also very interesting to read about. In the end though, it is up to Ima what she chooses to do when she stumbles upon the plan for her home. Socialpunk ended rather abruptly though fittingly. Nevertheless, it left me wanting more of the Silicon City and its inhabitants.
"After playing God for six years with the world he created, he couldn't control any of his subjects, none at all. Over the years, he had watched them evolve and become the sum of their own choices rather than the sum of his; and for that, he regretted ever giving them life."
About the Author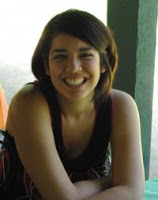 Monica Leonelle is a 27 year old writer living in Chicago with her husband and Westie dog. She is the author of a YA urban fantasy series called Seven Halos in addition to her YA cyberpunk trilogy, starting with the first book, Socialpunk.
Monica Leonelle started reading young adult books when she was seven and never managed to grow out of them. Now, she writes them from a lovely Chicago apartment she shares with an adorable little Westie named Mia.
There are lots of other things Monica hasn't grown out of, like the Disney channel, Forever 21, and dressing up on Halloween. She believes in approaching life with a childlike wonder. She loves to hear from readers, so email her at monicaleonelle@gmail.com to talk about her books, or to just say hi.
Monica Leonelle can be found at