Click the image for tour schedule.
ABOUT THE BOOK
first book in the Angel Creek series


Nineteen-year-old vampire Dawn has led a sheltered life within the confines of her father's presidential headquarters. Upon being sent on a mission to revamp four goofy misfits into guardians of a peaceful little town of Angel Creek, Dawn believes that all her dreams have finally come true. What starts off as a simple task, turns into something unexpected, changing Dawn's life forever and leading the action-loving, thrill-seeking vampire teen on a path of mystery, danger and intrigue.
When a human girl is kidnapped by a group of rogue vamps, Dawn discovers that there is more going on in Angel Creek than meets the eye. And it all connects to Ethan, the cute newcomer who seems too perfect to be true, Sebastian, the mysterious vampire with a turbulent past, and even Dawn herself. Dawn must not only succeed in revamping the troubled recruits, but must also prevent the vampire race from being overtaken by a malevolent villain who has a strange and obsessive fascination with her. As threat escalates, romance blooms, and ghosts from her past begin to surface, Dawn is sure of only one thing: her life will never be the same.
THE RATING
ReVamped is a fast-paced book that brings a lot of novelty and uniqueness in the vampire genre. The synopsis called for a simple mission which had gone deadly and the book did not disappoint. It started out with a 19-year-old protagonist who has lived her life training as a vampire warrior. But do not be misled; the year is 2015 and the world has gone through a huge shift and is headed straight into The Vampire Age.
Vampires have recently been accepted as part of the society and so have become vastly popular. However, there are laws that a vampire cannot feed on humans or turn them so as not to lose the exclusivity that comes with being a vampire. With Dawn's father working as the US Vampire President, Dawn is a Born meaning that her blood is more potent than a Made vampire. Like her father.
The world-building drew me in what with blood being a commercially available food in the form of Blood Cola to Blood Vodka and other bloody snacks. Garlic actually protects vampires against the sun and the blood of a vampire is poison to another weakening them. Moreover, I loved the fact that Ada Adams did not hesitate to show that vampires could also be imperfect creatures. It was a refreshing perspective to read about four trainees who are completely unsuited for the role of guardians of Angel Creek.
Dawn has lived her entire life training to become the best and the best her father could do on a parental level has been too surprising for both of them; like a pat on the shoulder that one time. Dawn has always felt more at home with tank top and jeans than a flowery dress and being brought up under the care of a nanny, Dawn is a one tough heroine.
It all starts when the demand of vampires as celebrities increases and the Fab Five decides to ditch as the guardians of Angel Creek to try out as actors in Hollywood. Dawn's father sends her on her first mission of training the four vampires in the town of Angel Creek to be the next guardians. To her surprise, an recurrent high school blonde cheerleader, an incorrigibly drunk band player, a timid librarian and a 16-year-old newly turned vampire by said blonde cheerleader are more apart in personalities than deemed possible.
So how does Dawn accomplish what she has set out for? A sexy bartender, Ethan, has intrigued Dawn as have the the fifth vampire in Angel Creek, Sebastian, who wants nothing to do with the team of guardians. ReVamped is a hilarious, emotional and adventure-filled book about Dawn and the life she once knew to be no longer the same. The best part? It is just the beginning. You so do not want to miss out on an awesome take on vampires!
'I don't think I've ever met a girl with a bazooka for a pet.' Hunter looked both amazed and slightly frightened.
'That's Kitty,' I said, pointing to the large weapon. 'I got her for my tenth birthday.'
'He smelled like a sultry summer storm—cool, refreshing rain, sweltering, hot wind, and charged, electric thunder—all rolled up into one extremely enticing vampire being.'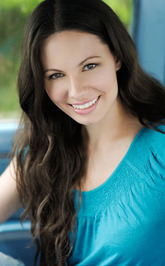 'Many people sing in the shower. I, on the other hand, write scenes in my head and act them out.'
At age five, Ada read her first chapter book – Pippi Longstocking. Ever since that moment, she developed an intense passion for the stories and characters found within the pages of literature.
In her career as an actress and a writer, Ada currently spends most of her days immersed in imaginary worlds. Much like the characters she enjoys playing and writing about, Ada is a martial artist with a Black Belt in Shotokan Karate. She is also a big proponent of lifelong learning, and has attained Bachelor of Arts in Psychology (it aids in creating characters with unique quirks!) as well as a Master's of Science in Education.
Ada strives to bring a fresh voice and perspective to fiction. She has been writing creatively for many years. ReVamped is her debut novel.
She lives in Toronto, Canada, and enjoys adventurous nature hikes with her adorable puppies Cara and Oreo.
Ada Adams can be found at