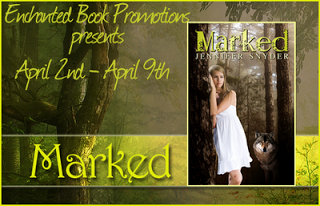 Click the banner for the tour schedule.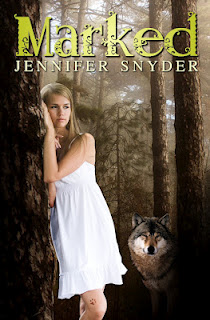 Title: Marked (Marked Duology, #1)
Author: Jennifer Snyder
Genre: Young Adult, Paranormal
Publisher: CreateSpace
Release Date: 22 February 2012
Pages: 90 (eARC)
Synopsis
A mysterious stranger she can't stay away from. A birthmark with a hidden meaning and one bite that changes seventeen-year-old Tessa Morganton's destiny forever…
Life for Tessa had been steady and calm—with the exception of her overly jealous boyfriend—until the moment Jace Fowler walked into her life.
Jace—incredibly charming with boy band good looks—is someone whom Tessa can't seem to stay away from… no matter how much she knows she should.
After surviving a strange animal attack, Tessa learns just how mysterious and secretive Jace really is and that his secrets not only involve himself…but her as well, making Tessa question everything she's ever believed regarding her life and those around her.
My Rating
* * * *
The Review
Before I say anything about Marked, I would like to admit that I don't like werewolves as much as I like other paranormal creatures like vampires, witches, revenants or zombies. That being said, reading Marked totally changed my view of werewolves. They are nothing short of awesomeness and Marked showed me exactly how much!
I adore Tessa Morganton, she is the embodiment of impulsiveness, she likes the thrill of adrenaline running through her veins. But she doesn't know it yet. Life is pretty normal in the small town of Breckwater for Tessa. Well, apart from small occasional bursts of jealousy from her boyfriend, Sam and her weird dreams about werewolf bites. But then things literally take a turn for change as soon as Jace Fowler steps into the diner Tessa works at.
Jace is an excitingly mysterious character. He has the charming act perfected to a tee, but he is honest and somewhat troubled at the same time. Pretty complex, if you ask me. He is very full of himself at times and more confident than Tessa have ever been. The chemistry between Tessa and Jace is there from the first moment they meet which surprises Jace. Then he sees Tessa's birthmark. And he lives in the creepy house owned by his uncle.
The subplots in the book, such as the boyfriend Sam and the role of Tessa's parents and Jace's cousins were perfectly balanced. Sam is a difficult person to deal with and for Tessa he became a bad habit she found difficult to break out of. Tessa's mom, on the other hand, doesn't really like Jace. I couldn't figure out exactly why was that. Tessa's best friend, Rachel, is an easygoing character in the book who never really took things too seriously.
Marked is a fast-paced book and so there's always something happening in it. I like that in books and I managed to finish it in one sitting! I would highly recommend Marked to readers of young adult paranormal books. Changed will be releasing in June 2012 and I can't want for it to be released!
"As for the moon, I believe it holds the power to make people do things they normally wouldn't, sure—but only when it's full. For some, I believe it can rule their entire existence."
About the Author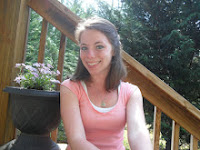 Jennifer Snyder writes Young Adult Edgy Contemporary novels as well as Young Adult Paranormal Romance novels. She resides in the beautiful mountains of Western North Carolina with her husband and two children. Jennifer finds great joy in blank notebooks and a smooth writing pen.
Feel free to visit her blog.
Jennifer Snyder can be found at
| Website Blog | Twitter | Goodreads |
Publisher |
Buy Marked (Marked Duology, #1)
| Amazon | B&N | Amazon (Kindle) | Smashwords |
Today is Jennifer Snyder's birthday!
So I would also like to take this opportunity to wish Jennifer
A Very Happy Birthday! =D
The Giveaways
Below are two giveaways for Marked, the first one is US only but there is a second giveaway for International readers. Win Marked and get to read an awesome book!
It isn't necessary to follow my blog to enter the giveaway but it would be nice if you could! Good luck!
Thanks to Jennifer Snyder and EBT for proving me a copy of Marked for review.