Click the banner for the tour schedule.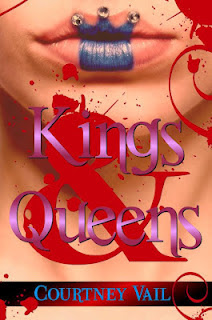 Title: Kings & Queens (Kings & Queens, #1)
Genre: Young Adult, Mystery
Publisher:
Little Prince Publishing
Release Date: 7 July 2011
Pages: 328 (eBook)
Synopsis
Seventeen-year-old Majesty Alistair wants police to look further into her father's fatal car wreck, hopes the baseball team she manages can reclaim the state crown, aches for Derek…or, no…maybe Alec…maybe. And she mostly wishes to retract the hateful words she said to her dad right before slamming the door in his face, only to never see him again.
All her desires get sidelined, though, when she overhears two fellow students planning a church massacre. She doubts cops will follow up on her tip since they're sick of her coming around with notions of possible crimes-in-the-works. And it's not like she cries wolf. Not really. They'd be freaked too, but they're not the ones suffering from bloody dreams that hint at disaster like some crazy, street guy forecasting the Apocalypse.
So, she does what any habitual winner with zero cred would do…try to I.D. the nutjobs before they act. But, when their agenda turns out to be far bigger than she ever assumed, and even friends start looking suspect, the truth and her actions threaten to haunt her forever, especially since she's left with blood on her hands, the blood of someone she loves.
My Rating
* * * *
The Review
Kings & Queens takes place in a time period of 6 weeks, 5 months after Majesty's father dies. Majesty is still raw from the whole ordeal and is trying very hard to go on in life without being irritated by her mother's new friend, Paul and the fact that she's in love with one of her best friends, Derek. In fact, Alec, the other best friend, is the only person keeping her on her toes, patient and just being there for her.
The way Kings & Queens begins will surely take the reader on a confusing ride for at least a few pages. Things start to get clearer though, when Majesty, manager of her high school baseball team, is in the woods playing assassination hide-and-seek with the baseball players and the coach. It's a tradition they perform after every win.
So it's understandable that she has almost no idea that her life is going to get a hell lot more complicated than she can ever imagine. Why is Preston being all nice all of a sudden seeing that it is an alien thing for him to be. Warren looks like a sure bad boy with his spikes and all. She loathes Blake like anything. Even Paul's behavior is getting suspicious as hell. Derek is drooling over Cynthia the slut. Bobby is being Bobby as he dumps Aislyn and Alec is moving in on his ex. Is Majesty actually jealous of that? What?
Kings & Queens have a lot of crazy characters. The mystery is so good it kept me guessing about the person behind the whole church massacre scene and then being adamant to take Majesty's life. As the story progresses, Majesty's list of possible killers is getting longer by the minute. There is so much going on in her life that I didn't want to stop reading at all!
Kings & Queens is definitely a juicy read. I would highly recommend it to lover of mystery with a dash of romance thrown in for good measure. There's also violence, murder and mayhem. Who doesn't want all that in a good unputdownable mystery and a young adult one at that?
"Oh, really? Do you wake up heaving from bloody dreams that promise destruction like some crazy street guy forecasting the Apocalypse? Did you slam a door in your dad's face hours before he died? Does everyone, cops included, think you're a pestering loon 'cause 'accident' doesn't sit right with you, nor the many other freakouts, like the car that keeps showing up on your street, with someone sitting in it, doing like, nothing? No? Oh no? Didn't think so. Life sucks for everyone. Jump or deal with it."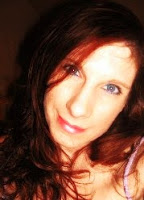 About the Author
Courtney Vail writes totally twisted YA and adult suspense. She enjoys braiding mystery, suspense & romance with some kind of weirdness. Her addictions to crazy coffee concoctions, Funny Bones, Ben & Jerry's, and bacon keep her running and writing. She currently lives in New England with a comedian stud and a wild gang of kidlets.
Courtney Vail can be found at