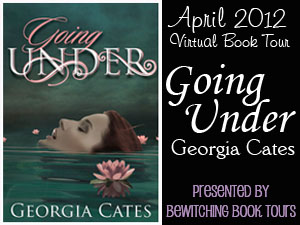 Click the banner for the tour schedule.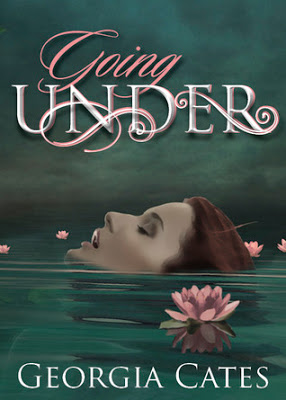 Title: Going Under
Author: Georgia Cates
Genre: Young Adult, Contemporary
Publisher: Georgia Cates
Release Date: 10 March 2012
Pages: 230 (eBook)
Synopsis
Jessie Boone is a self proclaimed bad boy and doesn't march to the beat of anyone's drum, but his own. Growing up in less than desirable circumstances has made him no stranger to the hard knock life and his determination to leave it behind is fierce. When he finds himself transferred to East Franklin High School, he sees his opportunity to use his athletic ability to snag a college football scholarship, but Forbes Henderson, the player Jessie means to replace isn't giving up his spot willingly. In fact, Forbes is willing to go to extreme measures to retain his place as first string quarterback. When Forbes' malicious plan to injure his replacement fails, Jessie is furious and determined to show him he messed with the wrong person; not only is he going to take the position of first string quarterback, he's going to take his girl, too.
Claire Deveraux is perfection at it's best. She is beautiful, intelligent and unaware she just became Jessie Boone's conquest as revenge against her boyfriend, Forbes Henderson. Like her flawless performance as the perfect daughter and student, Claire's production of being the perfect girlfriend has everyone fooled, except Jessie Boone, and she fears this tattooed bad boy will see her secret desire to explore his crude threats and promises to rock her perfect world. If she decides to give in to one uninhibited moment with Jessie, will she learn too late that it was all an act of vengeance or will Jessie learn the taste of first love is sweeter than that of revenge?
My Rating
* * * *
The Review
I am going to give it straight and I am going to say that Going Under is one of the best reads of 2012. I loved it! It had been so long since I last read a good contemporary young adult book and Going Under was perfect to remind me why I should read more contemporary YA books. Jessie and Claire are so likeable and engaging. I was engrossed from the first chapter.
Jessie is a bad boy with good intentions and so I never can resist a story about an unwilling bad boy. I couldn't stop wondering about the tattoo on his upper left arm! Jessie just got transferred into a rich and preppy high school and went head-first into conflict from day one. I really liked how he had this thing about never backing down especially from a challenge. I loved his interactions with Forbes, the ex-starting quarterback.
Claire is one of a kind. The one whose life seems perfect on the outside but in truth, it is just a facade because she doesn't feel so perfect but is afraid to come out of the comfort zone. Then having Payton as a BFF kind of rubbed off on her and I absotively loved how they had this habit of constructing new words. Payton was hilarious.
Going Under is so much more than I expected it to be. It is drenched in emotions and so be expected to go on one hell of an emotional ride. I loved how Georgia handled the conflict Jessie was in and Going Under was a very unpredictable read for me. But in the best of ways possible. I loved the chemistry between Jessie and Claire!
Jessie accepts who he is which is why he doesn't hope. He has lived a life unimaginable for an 18-year-old to be living. But he has. While, Claire is not as fragile as everyone believes. She is feisty and stubborn as hell. I really liked how the relationship and the story unfolded for Jessie and Claire. It couldn't have been better than that. Go on and read Going Under and you'll know what I am talking about.
"Dane was encouraging me to hope for something that would never happen,but it was a lesson I learned early in life-don't allow myself to hope because it was life's cruel joke of lifting you higher before dropping you flat on your ass."
About the Author
I spent thirteen years as a labor and delivery nurse before I decided to pursue my dream of becoming an author.
Blood of Anteros, Book One in The Vampire Agápe Series, was my first novel and it was released in September 2011.
I decided to step away from the paranormal genre to try my hand at a young adult romance and I loved it. It was so much fun, I plan to do it again in the near future.
Georgia Cates can be found at