Click the banner for the tour schedule.
Title: Embrace
Genre: Young Adult, Paranormal
Publisher: Omnific Publishing
Release Date: 20 December 2011
Pages: 190 (eARC)
Synopsis
Madison is familiar enough with change, and she hates everything about it. Change took her long-term boyfriend away from her. It caused one of her friends to suddenly hate her. It's responsible for the death of a local along with a host of other mysterious happenings. But when Madison meets a hot new guy, she thinks her luck is about to improve.
Madison is instantly drawn to the handsome and intriguing Isaac Addington. She quickly realizes he's a guy harboring a secret, but she's willing to risk the unknown to be with him.
Her world really spins out of control, however, when her best friend becomes delusional, seeing things that aren't there and desperately trying to escape their evil. When the doctors can't find the answers, Madison seeks her own.
Nothing can prepare her for what she is about to discover.
Dangerous, intoxicating, and darkly romantic, Embrace is a thriller that will leave you spellbound.
My Rating
* * * *
The Review
Embrace dives straight into the heart of the story from the get-go. Madison is not sure she likes change so when her BFF, Kaylee, tells her to get ready to go to a life-changing party; she's not sure she likes the sound of that. But she goes and her life does take a turn for good when she meets Isaac. More than that, she feels static current pass through her when their skins touch. The same happens with his father when she shakes his hand.
Madison is a character who is still pining for her ex-boyfriend who relocated across the country. She still have feelings for Kevin and regularly catches up with him. Kaylee thinks Madison needs to move on and so she relays how Matt have a crush on her and she could at least give a chance to Isaac.
Things change when Kaylee turns semi-schizophrenic and Madison just knows that it isn't anything medical. Research leads her to believe that dark magic is involved and she accidentally embraces her power in the desperation to prove that Kaylee is not a lunatic who sees invisible creatures coming to kill her.
In time, Isaac and Josh, Kaylee's boyfriend help Madison. Matt's advances become nothing short of deadly and Kevin arrives for a visit. A showdown is just waiting to happen around the corner and someone is not very happy. And what does Emma and Paige have to do with any of this?
In all, the best thing about Embrace is that, though it will be a series, it is a complete story. I really liked how emotions flow into the bodies and can be felt. Moreover, Madison's conflict over Isaac and her relationship with Kevin is dealt with such maturity that I was thoroughly engrossed.
Embrace is a different kind of paranormal than from what I usually read and I am going to admit that I really liked reading it. It definitely would be awesome to learn more about Isaac and his powers and how Madison's is progressing with hers. A fun, yet emotional, Embrace is for fans of paranormal with a dash of mystery and fun on the side.
"Embraced in Isaac's wings, I decided that change wasn't such a bad thing. It actually gave flight to a whole new world I couldn't wait to explore."
About the Author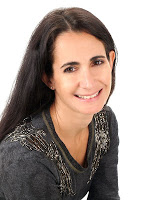 I write young adult and middle grade novels. I love finding new stories that keep me up late reading. While my favorite genre is fantasy, if the book is beautifully written with characters that come alive I'm all over it.
My debut novel EMBRACE is scheduled to be released this winter through Omnific Publishing.
Cherie Colyer can be found at