Click the banner for the tour schedule.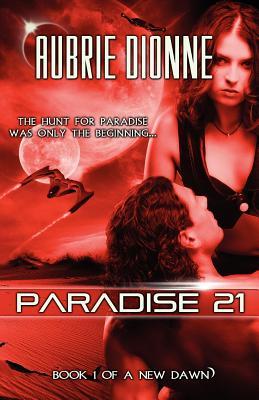 Title: Paradise 21 (A New Dawn, #1)
Author: Aubrie Dionne
Genre: Science Fiction, Romance
Publisher: Entangled Publishing
Release Date: 2 August 2011
Pages: 228 (eBook)
Synopsis
Aries has lived her entire life aboard mankind's last hope, the New Dawn, a spaceship traveling toward a planet where humanity can begin anew—a planet that won't be reached in Aries' lifetime. As one of the last genetically desirable women in the universe, she must marry her designated genetic match and produce the next generation for this centuries-long voyage.
But Aries has other plans.
When her desperate escape from the New Dawn strands her on a desert planet, Aries discovers the rumors about pirates—humans who escaped Earth before its demise—are true. Handsome, genetically imperfect Striker possesses the freedom Aries envies, and the two connect on a level she never thought possible. But pursued by her match from above and hunted by the planet's native inhabitants, Aries quickly learns her freedom will come at a hefty price.
The life of the man she loves.
The Review
What attracted me towards Paradise 21 was the synopsis, I haven't read much sci-fi books and this one seemed good enough to read. So despite the cover which seems to scream steamy romance, I was hooked from the first sentence.
Matched with a manipulating, power-hungry Barliss to preserve the gene pool aboard New Dawn, Aries Ryder couldn't have it worse. She is not your typical heroine; because even though she is a first class Lifer on New Dawn, she wants out. So she plans her escape and lands onto a deadened planet Sahara 354. Little does she know what's in store for her; from lizard men who have a habit of stealing to the giant sandworm ready for a kill.
Luckily, for her, there's Striker abandoned by his fellow pirates on Sahara 354 five years ago. And he's not only good at surviving in the desert; he has a much bigger plan. An alien ship that crashed into Sahara 354 along with the eggs that won't hatch is the only hope for their survival and escape from Sahara 354 and land on Refuge.
The two fall into an easy companionship, but they don't have much time because it's centuries after Earth disintegrated and technology has far since taken on a new meaning. So it wouldn't take long for Barliss, to whom Aries is bequeathed, to come out looking for her with the help of her locator and what not. And then there's the ex-fellow pirate, Drifter and the ex-girlfriend, Tiff who may have found the hidden map to Refuge. But they need Striker to decode it.
Paradise 21 is a fast-paced read, so you never lose interest because there's something happening at all times. It's admirable to see the strong protagonists and the world-building is awe-inspiring as I could actually imagine the universe after earth. All the betrayal, the fight for life, the concern about gene pool, remnants of the old Earth and the journey towards Paradise 21 come together in unpredictable ways. The book seems to have it all.
"The world's a tough place, and the universe is colder still."