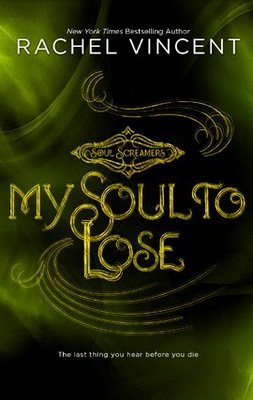 Title: My Soul to Lose (Soul Screamers, #0.5)Author: Rachel VincentGenre: Young Adult, ParanormalPublisher: HarlequinRelease Date: 1 July 2009Pages: 87 (eBook)
Synopsis
It was supposed to be a fun day, shopping at the mall with her best friend. Then the panic attack started and Kaylee Cavanaugh finds herself screaming, unable to stop. Her secret fears are exposed and it's the worst day of her life.
Until she wakes up in the psychiatric unit.
She tries to convince everyone she's fine–despite the shadows she sees forming around another patient and the urge to scream which comes burbling up again and again. Everyone thinks she's crazy. Everyone except Lydia, that is. Another patient with some special abilities….
I thought I should read My Soul to Lose before starting the first book in the Soul Screamers series. I am glad I did. The premise certainly looks promising because Kaylee Cavanaugh, the main character is nothing short of witty. There are dark, foreboding parts to the story but her sarcasm makes it all seem less dark and more refreshing.
What I didn't like was the little cliché about the almost non-existent social status for Kaylee and the hunk of a high school hero in Nash Hudson. I don't want this as something more than my thinking it is. But as it is high school, I hope it would be fun reading about the escapades Kaylee and her BFF, Emma, are bound to go on.
Overall, My Soul To Lose is a very interesting take, aside from the usual, on the paranormal fantasy element.
"And as she dialed, color suddenly drained from the world, like The Wizard of Oz in reverse. Emma went gray. The cops went gray. The shoppers went gray. And suddenly everyone stood in a swirling, twisting colorless fog.
I sat in the fog."