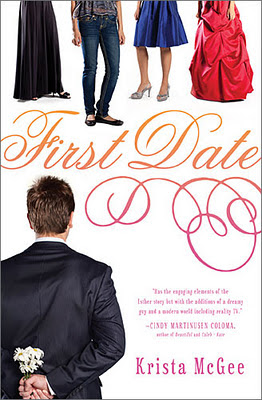 Title: First Date
Author: Krista McGee
Genre: Young Adult
Publisher: Thomas Nelson
Release Date: 10 January 2012
Pages: 336 (eBook)
Synopsis
Addy Davidson discovers God's unexpected plans for her life when a reality TV show turns her quiet existence on its head.
The orphaned daughter of missionaries, Addy is quite content to stay in the shadows and never draw attention to herself. But when she's selected for a reality TV show to try to become the President son's prom date-a show she didn't audition for-she's suddenly in America's spotlight.
The lights, the make-up, the competitions, and the blogs discussing every move she makes all make Addy incredibly uncomfortable. But through her time at The Mansion, Addy comes to realize that first impressions aren't always right, that hiding out may not be what God had planned for her life, and that her faith should affect everything she does. It may just be that her selection wasn't random at all and that she's on this show "for such a time as this."
My Rating
* * * *
The Review
First Date is one of those books that offer something fresh to the young adult genre. The synopsis was enough to make me want to read this and thanks to Thomas Nelson and NetGalley, I got to!
Addy Davidson is a normal teenager who lives in Tampa, Florida, goes to a small Christian high school, crushes on the cutest boy in school who probably doesn't even know her name and has an awesome BFF. But this is where it gets different. Addy lives with her Uncle Mike since her parents died in Columbia as missionaries serving people in the name of God. She loves golf and struggles to find her place in the world as a Christian. All she wants is a scholarship to an Ivy League college and so she works hard for it.
However, unbeknownst to her, God has some other plans for her in the meanwhile. The son of the President of United States, Jonathan Jackson, is looking for a date. The invitation arrives at her school and somehow the Principal thinks that by sending Addy they would bring an edge to the competition. And boy, does it ever!
From there starts a journey of a reluctant Addy on her way to participate in The Book of Love. Along with the mean host, other girls on the show are also not that err, friendly to her. However, Addy quickly bonds with Kara who is one of the participants on the show. Kara doesn't have any hidden agenda and sees through Addy pretty quickly herself. The President's son, on the other hand, always seems to want to talk to her and Addy is trying her hardest to avoid him because after all, it is reality TV.
As Addy is hell bent on getting eliminated come the first elimination, she encounters trouble of all sorts. Unfortunately for her, all her moves to get eliminated only makes America love her more!
Fast forward to an action-packed and fun-filled weeks of reality shows, First Date is thoroughly entertaining. The great thing about First Date is that where the author could have easily used clichés, she doesn't and instead weaves a lot of surprising elements into the story. In all, I had a really good time reading Addy grow into a much better person than she was at the beginning of the book.
Best Quote:
"Thank you, God, for making my language skills so bad that I couldn't say something I'd regret. Thank you for protecting me from my own stupidity."