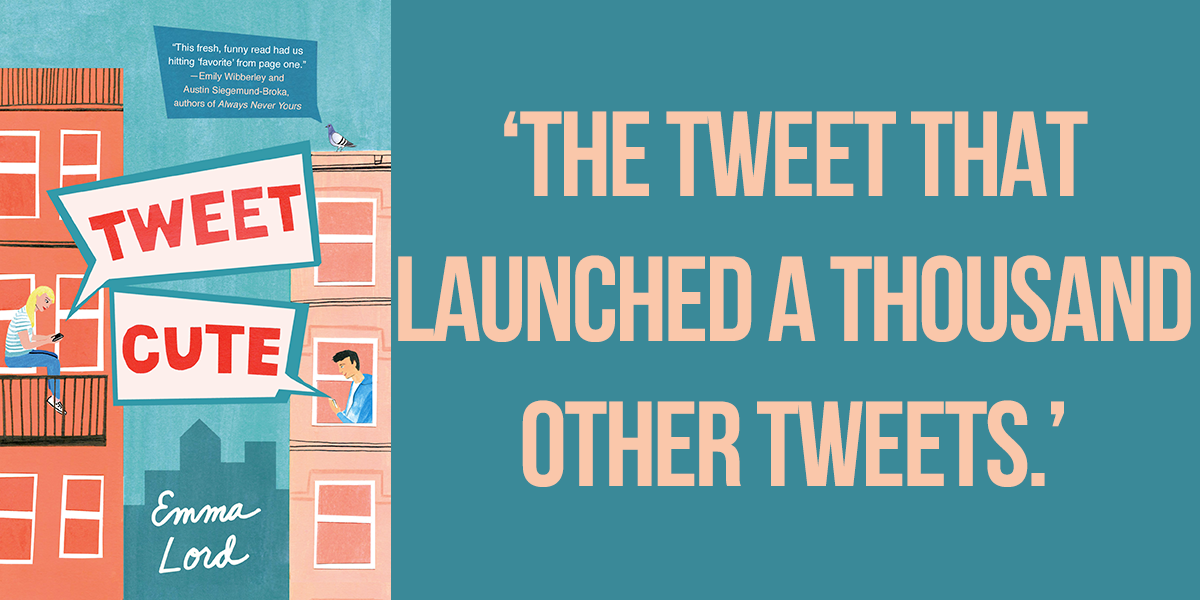 ABOUT THE BOOK
Tweet Cute by Emma Lord
young adult contemporary romance published by Wednesday Books on January 21st, 2020
Meet Pepper, swim team captain, chronic overachiever, and all-around perfectionist. Her family may be falling apart, but their massive fast-food chain is booming ― mainly thanks to Pepper, who is barely managing to juggle real life while secretly running Big League Burger's massive Twitter account.
Enter Jack, class clown and constant thorn in Pepper's side. When he isn't trying to duck out of his obscenely popular twin's shadow, he's busy working in his family's deli. His relationship with the business that holds his future might be love/hate, but when Big League Burger steals his grandma's iconic grilled cheese recipe, he'll do whatever it takes to take them down, one tweet at a time.
All's fair in love and cheese ― that is, until Pepper and Jack's spat turns into a viral Twitter war. Little do they know, while they're publicly duking it out with snarky memes and retweet battles, they're also falling for each other in real life ― on an anonymous chat app Jack built.
As their relationship deepens and their online shenanigans escalate ― people on the internet are shipping them?? ― their battle gets more and more personal, until even these two rivals can't ignore they were destined for the most unexpected, awkward, all-the-feels romance that neither of them expected.

THE RATING
THE REVIEW
OMG WHAT A DELIGHTFUL ROM-COM GEM OF A BOOK. A Twitter war, uncertainty about the future, endless mentions of baked goods and well-developed main characters are just some of the things that makes Tweet Cute an extremely engaging and clever read.
Pepper is an extremely driven high schooler who has got the overachiever image down thanks to the brutally competitive environment of her school. Hailing from Nashville, Pepper is still adjusting to the NYC life four years later and it shows most in the way she never wanders farther into the city than she needs to. Usually, I find people-pleasers annoying and despite Pepper definitely being one, she is also earnest and responsible which is why it's easy to understand why she's pretending so hard to come off as put together when she's clearly not.
Jack is an easygoing, humorous and a family-oriented main character and I just loved all these things about him. He shows up at their family-owned deli, Girl Cheesing (how awesome is the name?!), without ever been having asked to and is secretly an app developer. What truly endeared me to him, though is the fact that he's always felt like an outcast especially as opposed to his suave gay twin brother, Ethan, who has everything going for him and more. Jack is basically as much of a loser as Ethan isn't which was hilarious to read about because Emma Lord said gay rights.
The plot is paced well and the revelations keep on coming and pretty much never when I thought they would. There's definitely a Kasie West's P.S. I Like You vibe going on here with Pepper and Jack not only regularly chatting on Weazl, an anonymous chatting app Jack developed for his school students, with each other as well as in real life and on Twitter. I truly appreciated their various dynamics as it clearly brought a depth to their budding (read: begrudging LOL) friendship. Really, most of the book is about them becoming friends so romance doesn't really play that big of a role overall and I was into it.
Although, there were some angsty moments when it came to Jack and Ethan's brotherly dynamic, I loved them both. I just wish there was more to Ethan than almost every mention of him including him making out with his boyfriend. Sure, the two characters are pretty distinct but Ethan wasn't nearly as developed as some of the other secondary characters. In contrast, Pepper and Paige's sisterly dynamic is nothing short of amazing and I loved that they were so involved in each other lives and ran a baking blog together.
Oh and Pooja was a great addition! I loved that Emma Lord decided to bypass the girl-on-girl hate by having their disgruntled relationship bloom into a full-fledged friendship. In this house, we love progressive female friendships.
Luckily, Tweet Cute doesn't suffer from absentee parents syndrome. In fact, it's the opposite with Jack's family playing a central role in his life along with him having a close relationship with his grandmother, the founder of their deli. As for Pepper, her Mom turned out to be overbearing like 75 percent of the time which was not cool. It was clear that her family had turned more and more distanced overtime, but they were all still present in each other's lives.
There are some weak parts in Tweet Cute with the main one being that for such a big food joint chain, Big League Burger only had one person hired to manage their Twitter presence (and Pepper, of course), which was hard for me to wrap my head around. So definitely some convenient plot points but overall, Tweet Cute is a well-written contemporary with equal parts funny and heartwarming moments and a debut at that. I'm sure I'd read whatever Emma Lord writes next!
THE QUOTES
'That even after all this time and everything I've done, the things I've pressed and organized and pushed into myself to fit into this place, home is still somewhere a thousand miles away.
Farther than that, even. Because that version of home doesn't exist anymore.'

'It's weird how you have no idea how far you've come until suddenly you can't find the way back.'

'I have this sudden feeling of wanting to grab the words from the air, put them somewhere permanent in me, like they can anchor me in a way nothing else has.'
ABOUT THE AUTHOR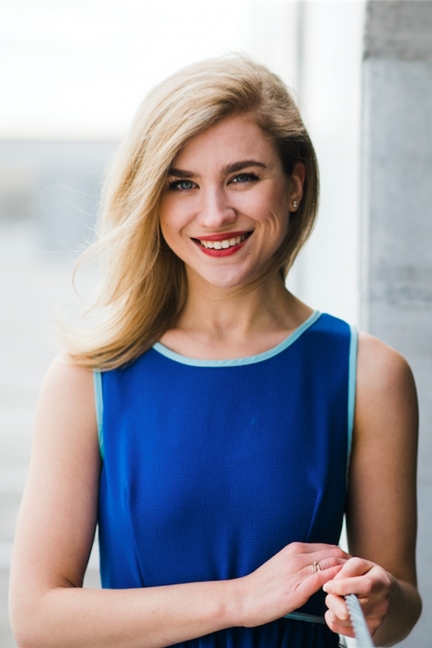 Emma Lord is a digital media editor and writer living in New York City, where she spends whatever time she isn't writing either running or belting show tunes in community theater. She graduated from the University of Virginia with a major in psychology and a minor in how to tilt your computer screen so nobody will notice you updating your fan fiction from the back row. She was raised on glitter, grilled cheese, and a whole lot of love. Her sun sign is Hufflepuff, but she is a Gryffindor rising. Tweet Cute is her debut novel.
Emma Lord can be found at
| Website | Twitter | Instagram |
Buy Tweet Cute
Thanks to Wednesday Books for inviting me to the blog tour and for providing me a copy of Tweet Cute for review.