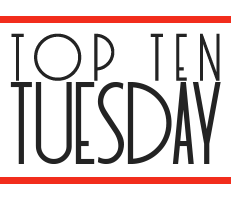 This week's top ten Tuesday topic is essentially about books that have been recently added to the TBR list and well, seeing as how I've added books up to 2020 to my TBR, this spin on it totally works. Also, because it's sci-fi month. I tried to pick more underrated books/authors and looking over the list, I guess I partly succeeded? The excitement's very real at least.
I read Neuvel's debut, Sleeping Giants, back in 2015 about 501928 (read: 8) months before its release and I'm still not over it. It's such a fucked up mindfuck of a book on top of being a reminisce of Pacific Rim. I love it when the concept and execution just works from the get-go. I can't wait to see what's in store for Rose and co. next especially after that ending.
Iron Gold still doesn't have a release date let alone a cover so I'm not ever sure if it's still coming out next year. Still, I'm very excited because Red Rising is one hell of a trilogy and I'm very much a fan of the universe Brown has created to say goodbye to it so soon.
The Lunar Chronicles is one of the most fun science fiction retellings that I've ever read and though, I should probably already read Stars Above, reading something from Iko's perspective and in graphic novel form is just so damn exciting. At this point, the wait seems like it's never going to be over.
I haven't read as much sci-fi thrillers set on earth as I'd like to so I'm very much looking forward to The Prey of Gods. Set in South Africa, it's about a group of characters with supernatural abilities joining forces 'to stop a goddess intent on remaking their world.' Man, it almost sounds too good to be true!
You can never have enough space operas which is why The Collapsing Empire is on this list. It's going to be rather wordy trying to summarize what the book is actually about. But Scalzi promises a female character who swears a lot as well as 'explosions and assassinations and political intrigue and really big spaceships and even a little bit of sex.' That's all I really need to know, to be honest.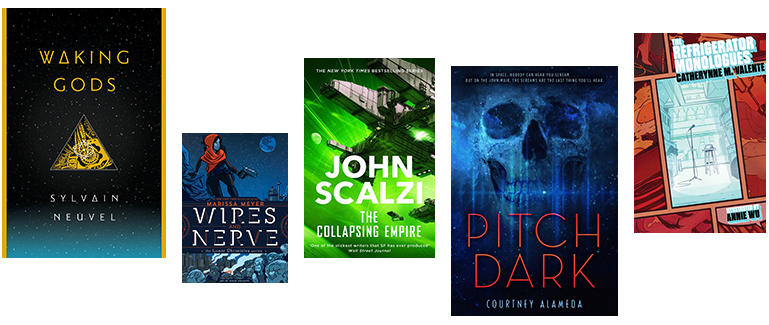 Embers of War takes place in space which obviously, because the main character is a sentient warship. I'm not sure about said warship being named Trouble Dog, but the synopsis sounds awesome enough to let this go. Maybe. I mean, there's a rescue mission and someone on-board is wreaking havoc so exciting stuff happening all around.
First off, I just love that cover! Who'd have thought that combination would work so well together and then it gets better. Pitch Dark is 'set against a future of marauding space scavengers and deadly aliens who kill with sound.' Yet another reason 2017 is going to rock.
I had written off any attempt of young adult retellings of Marvel or DC superheroes after the Black Widow one tanked so bad that virtually no one cares about its sequel. However, the synopsis of Wonder Woman: Warbringer makes me think that there's hope yet. With not even a single mention of romance and lady bosses teaming up, I'm so very here for it.
Crini discovered the amazing sounding The Refrigerator Monologues and honestly, with the way refrigeration of female characters go I'm more than ready for this. I've lost count of the number of female characters that TV has killed off for storytelling purposes this year alone. One show killed off its female lead while, another fired theirs (and then the show itself got cancelled which served them right, ha). I still haven't watched one of my favorite shows because they offed my favorite character for a type of storytelling that they couldn't even get right (I mean, the actress was outraged herself and wore a t-shirt about it). Bring it on!
Barbary Station apparently comes out in December 2017 which why so far away?! This is another one of those books that I feel like I've already been waiting a long time for because SPACE PIRATES taking down malevolent security AI. This is going to be tough because of my loves for space pirates and evil AIs, both.
Excited for any of these? Have any 2017 sci-fi recs that I should check out?