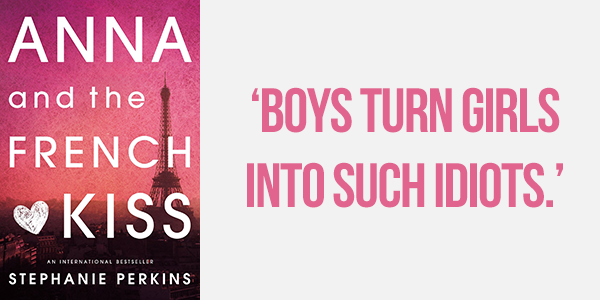 ABOUT THE BOOK
Anna and the French Kiss by Stephanie Perkins
young adult contemporary romance published by Dutton on December 2nd, 2010
first book in Anna and the French Kiss companion series
Anna can't wait for her senior year in Atlanta, where she has a good job, a loyal best friend, and a crush on the verge of becoming more. So she's not too thrilled when her father unexpectedly ships her off to boarding school in Paris – until she meets Étienne St. Clair, the perfect boy. The only problem? He's taken, and Anna might be, too, if anything comes of her crush back home. Will a year of romantic near-misses end in the French kiss Anna awaits?
THE RATING
THE REVIEW
When it comes to books, I never let the hype get to me and it works because then I don't have to deal with the extra pressure of it. However, the constant gushing gets to me which is why I sometimes find myself in the let's-get-blown-away-by-this-book state. It doesn't always turn out well for me. As I work my way towards books I must read, I'm ready to absolutely fall in love with them which is why the crushing disappointment after reading Anna and the French Kiss is still err, crushing me.
Before reading Anna and the French Kiss, I haven't come across a single person who hasn't loved it so I wasn't worried at all. I had planned to read the all of Stephanie Perkins books in the series because I knew Isla and the Happily Ever After was releasing. It was about damn time I read a Perkins book. I picked it up one night and started reading it, reading it, and finished it within a day. This is a big deal since the book is 400 pages long and so much happens in it.
I liked Anna right away. Despite being highly annoyed at her father for sending her all the way to Paris to graduate high school, Anna manages to be her quirky and amusing self. She's welcomed into Meredith's group of friends and develops a crush on the first English boy she sets her eyes on (re: Étienne St. Clair). Étienne is not one would expect; he's hilarious and oh-so-fun to be with but trapped in a relationship for far too long to want to end it. I really liked him when he offered to show Anna the ins and outs of Paris and man, I was blown away by how Perkins described Paris. Wanderlust alert.
Everything was going perfectly up until something happens which leaves Étienne extremely depressed. This is the time when Anna and Étienne's friendship really takes off and into the BFF territory. I loved how they came to rely on each other so much when their lives start overspilling with problems. However, it's clear that they both like each other too much to just remain BFFs and this is where it all goes downhill.
Just as Étienne comes out of his depressed state and Anna comes to terms with things back at home, he and Anna do something that I was dreading in the back of my mind. And so starts the cycle of St. Clair-Étienne-St. Clair-Étienne and I just wanted to really stab myself in the eye. Anna wants Étienne to break up with her girlfriend, Ellie, because of which Anna does some really stupid things. And it's just not Anna, it's Étienne as well. He's just as bad as Anna that I was rolling my eyes over their needless angst, immaturity, and stupid actions. I like the mess and drama in books but this was too much, even for me.
Nevertheless, I liked how Perkins handled the group friendship among Anna, Étienne, Meredith, Rashmi, and Josh. What I didn't like was how Meredith was put on the backburner when Anna and Étienne hit it off. Still, it takes a while for Anna and Rashmi to really become friends which I thought Perkins handled pretty well. But one thing I found really odd was that it's Anna's passion to be a film critic and she isn't aware that Paris is the perfect place to hone that passion into a profession? But when she discovers hundreds of theaters in Paris, she's does gets pretty involved in it by watching any and every kind of movie.
Yet for all the good that's in Anna and the French Kiss, the bad is way worse and the double standards pretty much did it for me. I just can't bring myself to want to read either Lola and the Boy Next Door or Isla and the Happily Ever After. By now I know that people have either loved both more or hated them just as well. I guess I'm not willing to find out any soon which just saddens me more than anything else because I really wanted to love the books.
THE QUOTES
'How many times can our emotions be tied to someone else's – be pulled and stretched and twisted – before they snap? Before they can never be mended again?'

'The more you know who you are, and what you want, the less you let things upset you.'