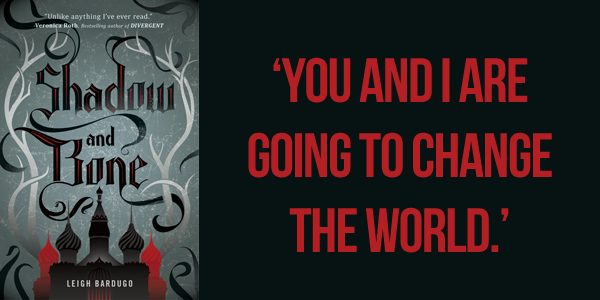 ABOUT THE BOOK
Shadow and Bone by Leigh Bardugo
young adult fantasy published by Henry Holt and Co. on May 17th, 2012
first book in The Grisha trilogy
The Shadow Fold, a swathe of impenetrable darkness, crawling with monsters that feast on human flesh, is slowly destroying the once-great nation of Ravka.
Alina, a pale, lonely orphan, discovers a unique power that thrusts her into the lavish world of the kingdom's magical elite—the Grisha. Could she be the key to unravelling the dark fabric of the Shadow Fold and setting Ravka free?
The Darkling, a creature of seductive charm and terrifying power, leader of the Grisha. If Alina is to fulfil her destiny, she must discover how to unlock her gift and face up to her dangerous attraction to him.
But what of Mal, Alina's childhood best friend? As Alina contemplates her dazzling new future, why can't she ever quite forget him?
Glorious. Epic. Irresistible. Romance.
THE RATING
THE REVIEW
Some might say that I was about two years too late when I read Shadow and Bone and they might be right. Being as obsessed with books as I am, I knew about its existence but one can say, I wasn't ready for it back then. You know how there's a moment when a page or two are left in the book and all the feelings come rushing in then it ends and there we either have a smile on our faces or our jaws drop in surprise. What comes after is a mixture of pure bliss and a nagging thought that why didn't I read this book sooner?! I never got the latter feeling after I finished Shadow and Bone. I was awed and so, what I felt instead was the aha moment and I finally knew what everyone who've read it knew: the beauty of it all.
There are series that you just have to read because the world building sets it apart from any other book in its genre and to me, fantasy is more about world building than anything else. Also, maps because they're important and pretty. Ravka is one of my most favorite fictional places despite the volcras, because there are Grishas who are badass and I want to be one so bad. It's a terrible place to be but oh-so-enchanting. Hats off to Leigh Bardugo for the visual imagery.
The world of Shadow and Bone is Russian-esque, from terrain to terminology to apparel. But the monsters are out of this world and oh-so-terrifying. In a world where the distance between a somebody and a nobody is either being a Grisha or Alina, the tables are suddenly and drastically turned. There are things we want in life up until we actually possess them because they turn out to be much bigger than life. And then the fact that the Darkling is responsible for them makes it that much more enticing to read about. This is Alina's life.
Despite Shadow and Bone being plot-driven, Alina goes through so much because of the plot that it's equally a character-driven story as well which, if you know me, I love the best. She starts out as someone who always wanted to speak and stand up for herself but somehow never could. In that way, she's typical of the protagonists in the fantasy genre. Yet as she grows throughout the story, she doesn't turn into a badass character; Alina has an elegance only a Sun Summoner can have and power doesn't make her haughty. She's sophisticated and that is her badassery.
While I really adored the relationship of Alina and Mal, he's definitely outshined by the Darkling because of how many layers the guy has. He isn't just a villain and his loneliness makes him vulnerable and I can write a book on his body language alone. I disliked Mal in the beginning because his obliviousness was a bit annoying but dude has his own way of realizing all the things which made me admire him because hey, you finally caught up to everything that's been happening. Now kiss. Seriously though, he's so human to the Darkling's utter non-humanness that it's hard not to love him.
As far as secondary characters go, I hated Ivan. Baghra and Genya are really great characters in the I-don't-know-whose-side-you-are-on-but-I-like-you-anyway way. I'm so excited for all the adventures to come because the ending was epic and I need more and more and more. I'm hoping that the Darkling gets more dark and that he tortures Alina and Mal some more and that everything is more awesome because there's Sturmhond in Siege and Storm.
THE QUOTES
'The thought filled me with grief, grief for the dreams we'd shared, for the love I'd felt, for the hopeful girl I would never be again.'

The Darkling slumped back in his chair. 'Fine,' he said with a weary shrug. 'Make me your villain.'

'People, particularly big men carrying big rifles, don't expect lip from a scrawny thing like me. They always look a bit dazed when they get it.'