Click the banner for the tour schedule.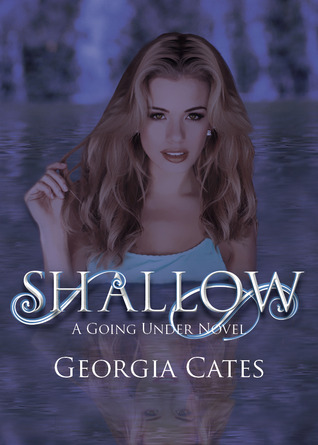 Title: Shallow (Going Under, #2)
Author: Georgia Cates
Genre: Young Adult, Contemporary
Publisher: Georgia Cates
Release Date: 21 September 2012
Pages: 164 (eBook)
Synopsis
Payton Archer's best friend, Claire, strives to be perfect in every way. Payton doesn't and this is her story.
Nick Hawke likes his car fast and his girls even faster. He blows through females quicker than his muscle car races down the "The Strip" in Collinsville and he wouldn't have it any other way. Determined to avoid the devastation he has watched his father endure in the aftermath of his mother leaving, he believes there is no room in his life or his heart for a relationship lasting more than one night. He seeks happiness in things that won't let him down…fast cars, adrenaline and one night stands. To his absolute dismay, all of that changes when he unexpectedly runs into an old friend and is introduced to Payton Archer, the first girl he ever wanted for more than one night. There's only one catch…she is completely immune to him and his smooth talking ways.
Payton Archer is looking for what Claire has with Jessie, but she has given up on finding it…at least until she leaves for college in the Fall because she is certain that is where she will find the perfect guy to fit into her perfect world. She plans on Summer being nothing but three uneventful months of fun, but it turns out to be anything but ordinary when Payton is introduced to Nick Hawke, one of Jessie's old Collinsville friends. She is shocked by her immediate and intense attraction for "Hawke" because nothing about him is what Payton is looking for. Sure, he's hot and sexy but he comes from Collinsville and that is definitely not on her list of prerequisites. Everything about him makes Payton's heart speed because he is exciting and dangerous, but his fast car and the dangerous chances he takes aren't what scares Payton the most…it's the way Nick Hawke makes her feel every time he looks at her. Can Payton find that moment of total fearlessness and make the decision to leave the safe, shallow end of love to risk going under completely?
My Rating
* * *
The Review
Shallow introduced me to two great main characters and while, I am glad I got a chance to read it, it falls short slightly. Payton wants her ever after but she doesn't want to get hurt after the whole Cooper fiasco. So until someone better comes along, she's stuck between Mom and Dad aka Claire and Jessie.
However, Payton does not take anyone's bullshit and she knows how to put people in their places. In short, she's simply badass. So when Nick aka Hawke takes a fancy to her and uses every trick in the book to impress her, all she feels is bored.
Nicks work has just begin though, he tries out other routes to get to her because she has the power to unnerve him and make him nervous. Something no other girl has ever done before. So it's natural for Nick to have a need to get close to her.
It's surprising because even Jessie was not this much of a man-whore but it all really fits together because Payton is exactly the kind of girl Nick would fall for. And fall he does. But things are not as simple and story goes deeper than just their relationship affecting them in serious ways.
So while it's true that one wouldn't peg a womanizer of the first degree to have a journal; it's also unbelievable and slightly ridiculous. I warmed up to the idea but the content stumped me. And this was where the story went into a strange way for me.
In all, I just really think that Shallow started out as a great read, a book I might have liked more than Going Under. But as the story progressed, it eventually went downhill for me and I was kind of ready for it to end when that happened. I'm not saying to not read Shallow, definitely do. I'm just saying it could have had a follow-up to the ending.
"My heart suddenly felt cold and the center began to crack and shatter like a sheet of ice when it can no longer withstand the pressure being pushed against it."
"Can't you see I would do anything to be your everything?"
About the Author
I spent thirteen years as a labor and delivery nurse before I decided to pursue my dream of becoming an author.
Blood of Anteros, Book One in The Vampire Agápe Series, was my first novel and it was released in September 2011.
I decided to step away from the paranormal genre to try my hand at a young adult romance and I loved it. It was so much fun, I plan to do it again in the near future.
Georgia Cates can be found at