Click the banner for the tour schedule.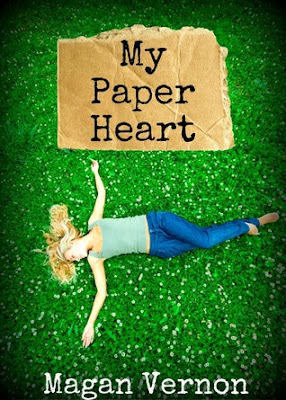 Title: My Paper Heart
Author: Magan Vernon
Genre: New Adult, Contemporary
Publisher: Calta Press
Release Date: 1 August 2012
Pages: 130 (eARC)
Synopsis
There are worse things in life than failing out of college- such as having your parents receive the letter that you've been kicked out.
Now to appease her parents self-proclaimed sorority princess Libby Gentry is packing up her Prada bag and heading to work for her great aunt's antique store in tiny Elsbury, Louisiana. She's pretty sure she can tackle the swamp and deal with her great aunt and tom boy of a little cousin, but what she doesn't know is if she can handle the local town playboy, Blaine Crabtree.
As Libby's feelings for Blaine grow, so does her need for acceptance and all of the insecurities she has kept inside are coming out. She may have survived the Louisiana swamp, but she may not survive Blaine's reluctance to say the 'L' word. When Blaine finally commits to the three words Libby's been waiting for, she only hopes they haven't come too late.
My Rating
* * * *
The Review
A piece of a dead tree makes it way to Libby's home and her immediate future is decided. In a matter of few hours, Libby goes from being a sorority princess at the Illinois State University to working at her great aunt's antiques shop in Louisiana. Talk about a major demotion! Well, it is what it is, so Libby begrudgingly packs her bags to leave her home for who knows how long.
It's not like Libby can say much to defend her party-hard-and-get-drunk-harder image because no one really wants to know her. They form opinion on what they see and why her parents should be any different?
However, when it comes to adjusting, Libby is a pro. She is also a pro when it comes to pretending but I will save that for later. Libby is pretty sure she can mend her paper heart along with her insecurities with Aunt Dee's heavenly cooking while trying to give a makeover to her tomboyish fifteen-year-old cousin, Brittany.
But Libby is like a moth to a flame in the town of Elsbury when it comes to attracting the attention of the town people. In particular, Blaine Crabtree. What is with the guy with his annoying habit of commenting on her slutty ways. He's the one to talk, after going at it with half the town!
Like Libby though, Blaine has a story of his own and as he realizes and apologizes for his inappropriate behavior towards Libby, things take a turn for the better. Now Blaine and Libby cannot get enough of each other's company. However, Brittany have a crush on Blaine (which Libby is aware of and is sorry for) so she makes Libby insecure with all the boyfriend talk. Things that makes Libby question everything over and over again for Libby has a bad experience with Beau, her ex.
Now, each small progress in their relationship seems like a burden to Libby and she keeps thinking if she is not good enough. Libby is a product of bullying and being made fun of for years haven't settled well with her. Even though she has hidden all of that in layers of great fashion sense and what-not; it never really went away.
Blaine is a very humble character who has turned to wrong ways trying to make himself feel better about himself. So when Libby barges in speaking her thoughts out loud and daring him to feel again, Blaine realizes the error of his ways. But he needs little more than a push to move forward. Libby, on the other hand, is a very upbeat character and finds the fun part in any aspect of her life. But just as quickly, her spirits also gets diffused so it is intense to see her grow.
So while Blaine is helping Libby overcome her fear of bad relationships, so is Libby helping Blaine with his relationship issues. Nothing like something that makes you want to step out of your comfort zone to embrace the better. After all, it is darkest before the dawn and I always find such books beautiful.
My Paper Heart is a great contemporary debut by Magan Vernon which should not be missed at all. I hope she writes more contemporary books. It makes you think about all the possibilities in life and how each moment in life builds up to the moment of realization. Of need. And of what it takes to finally grow up.
"Mom held the piece of paper in her hands. It was as if she was holding my heart. Thin and frail. My paper heart to be torn to shreds."
About the Author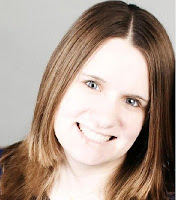 Self-proclaimed geek-to-glam poster child who channels her inner geek by writing science fiction for teens. Even though she slept with a night light until she was in middle school for fear of alien attacks.

She now lives with her husband, daughter, and dog in central Illinois where she still sleeps with a night light…just in case.
Magan Vernon can be found at
| Website | Blog | Facebook | Twitter | Goodreads | Publisher |
| Amazon (Kindle) | B&N | Smashwords |
The Interview
Hello, Magan. I am so glad to have you on my blog today! I really enjoyed My Paper Heart and so let's get started with the interview to know more about it.
I read in your bio that you're "self-proclaimed geek-to-glam poster child." What's the story behind it?
Well, my husband says I'm still a geek, but I digress. I was always the geeky girl growing up that preferred to read a book (mainly comic books) instead of going out. Then I went to college, put down the comic books, joined a sorority and all of a sudden the girl who others looked at as being the geek in the back of the room turned into the girl who made sure not to let her heels slip in the drool that had pooled on the floor from people staring.
Okay, maybe a little bit over the top, but you get the picture 🙂
The title of your book is very intriguing and describes Libby very aptly, how did you come up with it?
The title of the book was originally 'My Own Summer,' but then I found out that was a song by The Deftones that definitely gave off the wrong message. One of my critique partners helped me come up with the concept because it had a lot to do with the paper that Libby received that said she had been kicked out of college and following her heart.
What was your favorite part about writing My Paper Heart?
Blaine, most definitely. I'm a sucker for a southern gentleman, but he was really complicated. He was gruff yet sensitive and for a long time I didn't know what his deal was. He was a mystery even to me!
The hardest?
Libby's sorority life. I am a sorority girl and there were some parts of the whole process that I loved and there were other parts that tore me to shreds. Some of the stuff Libby goes through were made up (not from my own experiences, but some I've heard that other sororities did), but some of the stuff took me to my darkest times living in the house.
What is the one book that has most influenced your life and why?
No laughing, but Twilight.
I was in my senior year of college and my roomie was OBSESSED with the books. I never had time to read for pleasure (I was working a job, an internship, and going to school full-time), but she let me borrow them anyways. I ended up being hooked. I found myself sneaking the books under the table during class just to finish them. This drew me to the young adult genre and it was how I got started writing My Paper Heart…eventually. It took me another year before that was actually started.
Are there any occupational hazards to being a writer?
People can be mean. There are some reviews that rip me to my core, one review even said they wanted to 'effing slap me.' I try and be the better person, but sometimes it feels like people forget the author is human. I respect reviewer's opinions and I value them, but I think there is a difference between attacking the words the author puts down and attacking the story itself.
What genre did you relate to more when writing: paranormal or contemporary?
Ohhh tough one!
There are parts to both that I related to. Of course, I'm not dating an alien, but there are real struggles that Alex deals with in My Alien Romance series that I deal with on a personal level. With that said, contemp is harder in some ways because then I have to be rooted in reality and make sure that I'm not throwing things around that don't make sense. Sometimes I wish my life was a little more paranormal and I could explain where the helter all my missing socks go!
What question have you always wanted to be asked in an interview and how would you answer that question?
Is your husband really an alien?
My answer? Yes. He won't admit it, but I watched enough Roswell to know that a guy who eats that much hot sauce cannot be human.
What book are you currently reading?
I'm critiquing a friend's manuscript right now, which is hard to read while I'm critiquing, but I'm still hooked to CK Bryant's BOUND (which is free on Amazon).
You never leave your home without?
Cell phone
Favorite time of the day?
The morning. If I sleep in too late then I feel like my whole day is gone.
Everyone should know that you are – ?
A working mother and author. People do always ask 'when is the next book coming out?' or wonder where I am during the day. I work a normal day job in auto claims, come home to my daughter at night, and write when I can. If I don't get stuff out as fast as others, it's because I'm saving the world one auto accident at a time 🙂
Thanks again for having me!
The Giveaway
Magan has generously provided an eBook copy to giveaway. Rules are in the rafflecopter widget.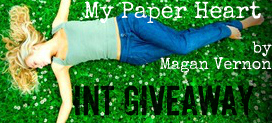 Thanks to Magan Vernon for
providing me a copy of My Paper Heart for review.