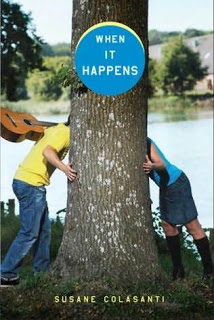 Title: When It Happens
Genre: Young Adult, Contemporary
Publisher: Simon Pulse
Release Date: 1 May 2008
Pages: 336 (eBook)
Synopsis
At the start of senior year, Sara wants two things: to get into her first-choice college and to find true love. Tobey also wants two things: to win Battle of the Bands and to make Sara fall in love with him.
Dave, the boy Sara was hoping would realize she exists, moves in on Sara first. But Tobey is impossible for Sara to ignore. He gets the little things that matter to her and, most importantly, he feels like something real. Can a slacker rock star wannabe win the heart of a pretty class brain like Sara?
My Rating
* *
The synopsis of When It Happens was interesting; unfortunately, that's not what I cay say about the book. It falls short and by a large margin as well. I was really psyched to read Susane Colasanti after Something Like Fate. Thus, I decided to read this out the three options I had: Waiting For You and Take Me There.
My feelings about the book could be summed up by a repetitive dialog in the book, "You"re so much more than you"re letting yourself be." That's what I felt like saying to the author, as the seemingly interesting storyline got more and more frivolous.
I know that Dave thought of girls in terms of sex but so did Tobey; his thoughts weren't just as pronounced and as forceful. Plus, the whole slacker thing with Tobey didn't work out well enough, either. Moreover, the whole Battle of the Bands aspect also lagged behind in the development area.
The character of Sara got immature with all the self-indulgence about being in the popular world and then studying like a maniac. On the one hand, she's proud to be a nerd and on the other, she can't resist the high life? What high life, the popping pills in try rooms one?
In all, I had high expectations for this book. But Maggie turned out to be not what I thought and the book's target audience is probably 11 to 15. Granted, it did make me laugh with on all the corny jokes but, after a while, the story got way too messed up that I just rushed through it.
Best Quote:
"And there are a million possibilities. Like the possibility of going separate ways. Together."