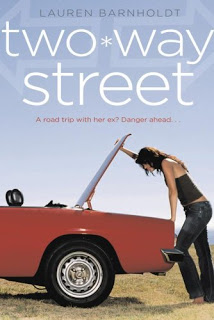 Genre: Young Adult, Contemporary
Publisher: Simon Pulse
Release Date: 26 July 2007
Pages: 304 (eBook)
Synopsis
There are two sides to every breakup.
This is Jordan and Courtney, totally in love. Sure, they were an unlikely high school couple. But they clicked; it worked. They're even going to the same college, and driving cross-country together for orientation.
Then Jordan dumps Courtney — for a girl he met on the Internet.
It's too late to change plans, so the road trip is on. Courtney's heartbroken, but figures she can tough it out for a few days. La la la — this is Courtney pretending not to care.
But in a strange twist, Jordan cares. A lot.
Turns out, he's got a secret or two that he's not telling Courtney. And it has everything to do with why they broke up, why they can't get back together, and how, in spite of it all, this couple is destined for each other.
As soon as I read the backside of Two-Way Street, I wanted to read it. It is always interesting to read such books of conflicting interests. Albeit, I figured out the main conflict about 50 pages into the book. It was predictable. But the thing is that I didn't mind it because I wanted to read the jibes being exchanged throughout their journey. Jordan and Courtney are not together anymore and Courtney is not aware of the real reason Jordan broke up with her. But both are still pretty much in love. So the jealousy naturally ensues.
It was so engrossing to read about the thinking process of Jordan and Courtney. The way they handled their BFFs and how they both evolved. It was all so different 'cause they actually liked each other before the trip. The flashbacks and the way they brought out the best and the worst in each other were fun to read. All those thing Courtney did to get the attention of Jordan only made him want her more. Ah…what fun!
I liked the character of Jordan more at times, his views on making it hard for the cheerleader to get him. However, it was somewhat player-ish of him. Also, I didn't really liked the whole night of the party when Courtney wanted to tell Lloyd about her feelings. That was so twisted because of how fast everything happened and it got all messed up at the end of the night.
In all, Two-Way Street was a hilarious read and the best thing was that we get the point of views from Courtney and Jordan, both. It all fit together so well and I appreciate the book because of what it tried to communicate about. B.J and Jocelyn, their BFFs were awesome, too! Don't miss out on a great, light, summer read!
Best Quote:
"Maybe it's our bodies' way of telling us we were meant to be. Or maybe I, like, cuddle raped him or something."