ABOUT THE BOOK
Oppression by
Jessica Therrien
young adult fantasy published by ZOVA on 28 February 2012
first book in the Children of the Gods series
Elyse knows what it means to keep a secret. She's been keeping secrets her whole life. Two, actually. First, that she ages five times slower than the average person, so that while she looks eighteen years old, she's closer to eighty. Second, that her blood has a mysterious power to heal.
For Elyse, these things don't make her special. They make life dangerous. After the death of her parents, she's been careful to keep her secret as closely guarded as possible. Now, only one other person in the world knows about her age and ability.
Or so she thinks.
Elyse is not the only one keeping secrets. There are others like her all over the world, descendants of the very people the Greeks considered gods. She is one of them, and they have been waiting for her.
Among so many of her kind, she should not be very remarkable–except for the prophecy. Some believe she will put an end to centuries of traditions, safeguarded by violence, which have oppressed her people for centuries. Others are determined to keep her from doing just that. But for Elyse, the game is just beginning–and she's not entirely willing to play by their rules.
THE RATING

THE REVIEW
Once in a while you get to read a book that completely and utterly takes your breath away. Oppression was that kind of a book for me. It is just perfect the way it is and I never expected it to be so good. I am so glad I got to read it! Elyse and William, the protagonists, go through such character development that it is astounding to see them grow to adjust in a flow.
Elyse is such a beautiful name for the heroine (although, I read in an interview of the author that at first, it was supposed to be Ruth which, in my opinion, is equally beautiful). Whereas, William is the kind of a guy who has a perfect combination of everything from emotions to the take on life. I love it when the characters offer an aura of mystery and depth to the reader. I could actually feel why Elyse did what she does and why William thought like he did. The rest of the characters gave a little to the story as well and build it up so well that it felt good to read about them all. I actually am in anticipation of how things will go for the Descendants from now.
The prophecy and the oppression that has been a part of life for the likes of her makes things dangerous for Elyse, William and the others. But is Elyse willing to play by their rules? Think again because she's one hell of a tough girl when she wants to be. I never liked a female protagonist more than I like Elyse. William is charming and a perfect hero to read about. I liked reading about the scenes involving the persuasion.
I took Mythology a year back but reading Oppression made me fall in love with it all over again and seeing what Jessica Therrien did with it is just awe-inspiring. I never could stop reading and well, I finished the latter half in a single sitting! Each of the powers are so creatively thought up from their respective ancestors that it is very enjoyable to read about them.
Oppression is a beautiful start to an awesome series and it offers so much potential to grow in a universe of its own. The ending is just perfect and is a complete story as far as the first book goes. Jessica Therrien created a universe that I would love to read about. A new favorite of mine, and one of the bests 2012 has to offer, I highly recommend Oppression to fans of young adult fantasy.
THE QUOTES
'The oracle can see all things that will be, but only the things that will cause profound change stay in the forefront of her mind, things that will change the course of the future. It's a hard job, knowing what will happen. When things don't play out the way they should, do you watch the sequence of unfavorable events unfold or do you step in and try and change the tide?'
ABOUT THE AUTHOR
Jessica Therrien is the author of
Oppression
, book one in her YA paranormal romance/adventure series,
Children of the Gods
. Oppression was published by ZOVA Books in February of 2012.
Jessica is a graduate of San Diego State University. She lived in Taiwan for a year where she learned Chinese, but she lives in Chula Vista now, where everyone speaks Spanish instead. Although she spends most days in a cubicle at her day job, her alter ego is a writer, who loves the arts with a passion.
Jessica is currently writing book two in her Children of the Gods series.
Jessica Therrien can be found at
Buy Oppression (Children of the Gods, #1)
| Amazon | B&N | Book Depository |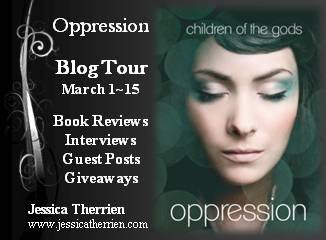 Click the image for the blog tour schedule.



THE GIVEAWAY
Enter here! It is international.
Thanks to Jessica Therrien for providing me a copy of Oppression for review.