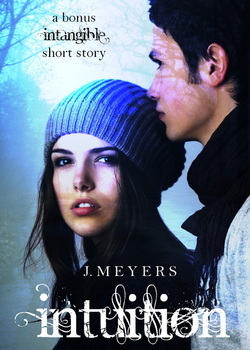 Genre: Young Adult, Paranormal
Publisher: J. Meyers
Release Date: 17 October 2011
Pages: 18 (eBook)
Synopsis
Intuition: A Bonus INTANGIBLE Short Story
Luke and his twin sister Sera have unusual abilities. Hers is a gift—she can heal with a touch of her hand. His is a curse—he can see the future but he can't do anything about it.
On a hike up the mountain, Luke has a vision unlike any other—one that leaves him terrified. Knowing that it will come true—and that he must do everything in his power to stop it—leaves his own future uncertain.
Intuition is a prequel novella to Intangible and it's very short. The synopsis of Intangible had me intrigued and when I discovered that it has a
free prequel
, I was all for it!
I am glad I read Intuition, the whole concept seems very different from the usual paranormal young adult books out there and the covers are pretty, too. Intuition started off with Luke feeling the impending doom and urging the feeling to take over him. He can see the future. He and Sera, his twin sister, then start out for their traditional hike to Mt. Mansfield where Luke has two visions. The first takes some healing from Sera while, the second vision terrifies Luke.
Who was the person Luke saw in his vision? And why doesn't he want to tell Sera about it, yet? This is what Intangible would answer and I am hoping, it would be with a dash of some action!
Best Quote:
"It felt so big up here. Earth. The world. But it didn't make Luke feel small—he felt as if he were a part of it all. Connected. Necessary."